Zonar considers a vehicle to be idling when two key requirements are met:
The engine is powered on.
The vehicle is not moving (speed is 0).
The accuracy of the calculation is dependent on the vehicle data received by the GPS unit. If the Zonar equipment is miswired, it may report incorrectly excessive idle times. Troubleshooting these idle times will significantly depend on how the Zonar equipment is wired to the vehicle.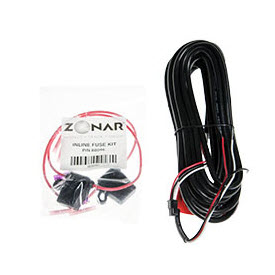 Because the 4-pin cable does not rely on computer data, it is possible to connect it to an electrical signal that does not correctly map to the engine. Ensure that the white/switched power lead only has voltage (typically 8-30VDC) present when the engine is running. It should read 0VDC when the engine is off or when the vehicle is in accessory mode.
Worn out ignition key cylinders have been known to cause this issue. Ensure that there is no free play in the ignition key cylinder that may cause the white/switched lead to have a voltage present when the ignition key is removed.
Constant Power
An alternative way to consider idle time is that it occurs when a Power On or Motion Stop event occurs, and lasts until the GPS unit registers a Motion Start or Power Off event. If the GPS unit loses power before either of these events can occur, the idle times may not be accurate.
The constant power lead should always receive voltage (8-30VDC) whether the engine is on or not. If all lights on the GPS unit shut off as soon as the engine is turned off, there is a constant power issue that must be addressed.
Master Kill Switch
If the vehicle is equipped with a master kill switch, throwing the switch too early may result in similar issues to losing constant power. The kill switch should be delayed until the Status LED on the GPS unit begins to blink, typically 2-3 seconds after powering off the engine.
Expected Correct Behavior
To assure correct idle times, the Status LED should be solid green when the engine is running. When the engine is turned off, the Status LED should begin blinking. The lights on the GPS unit will remain on for four (4) minutes before going to sleep.