Introduction
Z Pass is a vehicle-mounted, 125KHz RFID reader intended for use with Zonar Telematics devices.
Two Z Pass readers may be daisy-chained to one Zonar Telematic device for vehicles with front & back passenger loading doors.
Zonar Systems' equipment will provide years of reliable service if properly installed and maintained. Zonar equipment is typically installed in heavy vehicle applications and is often subject to extreme temperatures, dust, dirt, vibration and shock. Proper installation is the critical first step to equipment longevity and optimal performance.
This guide is meant to be a general guideline for the professional installer and technician. While we attempt to point out the most common installation questions and issues; common sense, good housekeeping procedures, attention to detail, safety adherence and technical competence of the professional installer are critical for a successful installation.
Refer to your specific vehicle manufacturer guidelines for the installation of electrical components and wiring.
A professional team of Zonar support technicians and engineers is available to answer your installation questions. Contact Zonar at 1-877-843-3847 or by email at customercare@zonarsystems.com.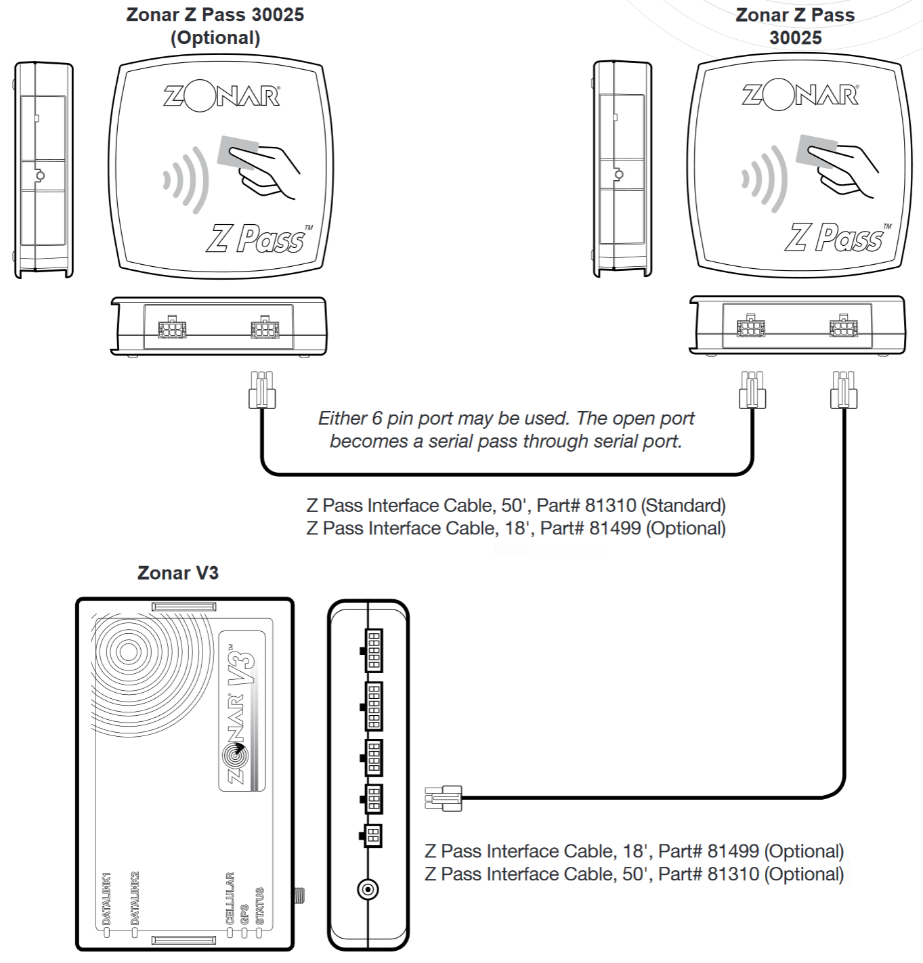 General Guidelines
Layout
Do not place Zonar RFID tags, cables, or other equipment in any location or position which may compromise human or equipment safety.
Verify placement acceptability with State DOT/Law enforcement prior to installation.
Lay all components out prior to installation to check for proper cable length and interference issues.
Avoid mounting Z Pass and Z Pass wiring near other radio equipment (e.g.,two-way radios), PA equipment and high energy electrical sources (e.g., cables, relays, amplifiers, etc.).
Ensure that there is at least 12" clearance between Z Pass and Zonar RFID tags.
Drill Holes
Do not drill into the V3 unit. This will void the warranty.
Capture all drill chips during drilling operations. Do not allow chips to fall onto equipment, furnishings, etc.
Deburr all drill holes on both sides of drilled surface. Example deburr tool:

All drill holes must have a rubber grommet or similar anti-chafing system installed to protect cable assemblies (e.g. plastic conduit).
Seal all penetration drill holes which may pass rain water.
Cable Management
Strain relieve and support all cable installations.
Avoid sharp bends and tight radius installations of cables.
Avoid moving components (e.g. doors, steering shafts, handles, fans, etc.).
Provide an adequate "Service Loop" i.e. "cable slack" to allow for servicing of equipment.
Avoid routing cables thru doors, windows, and other pinch points.
Avoid routing cables in high personnel traffic areas.
Avoid routing antenna cables near radio and PA equipment.
General Housekeeping
Capture all drill chips during drilling operations. Do not allow drill chips to fall onto electrical equipment, furnishings, heating ducts, etc. Magnets, sticky tape, vacuums, physical barriers, etc. may all be used to accomplish this task.
Remove excess sealant. Sealant should be debris/contaminant free (e.g. drill chips), consistent, and uniform in appearance.
Clip excess wire tie protrusions.
Z Pass Mounting System
Mounting Options:
RAM Mount (Zonar-supplied)
User supplied options (e.g. Velcro).
Suggested Mounting Areas:
Follow all general guidelines.
Typically mounted at passenger entrance/exit points at a convenient height and angle for passengers boarding and exiting the vehicle.
Ensure that location of installed Z Pass does not block driver view, interfere with vehicle operation and loading/unloading of passengers (e.g., snags coats, clothes, book bags, etc).
To prevent degrading read range and accuracy, keep reader away from metal structures and electrical sources of interference (e.g., radios, wiring, switches and relays) as much as possible.
Ensure that there is at least 12" clearance between Z Pass and Zonar RFID tags.
Note: Verify placement acceptability with state DOT/Law Enforcement prior to installation.
RAM Mount
All hardware included.
Optional backing plate provides additional structural support when needed (e.g. mounting RAM Mount to vinyl or thin sheet metal dashboard).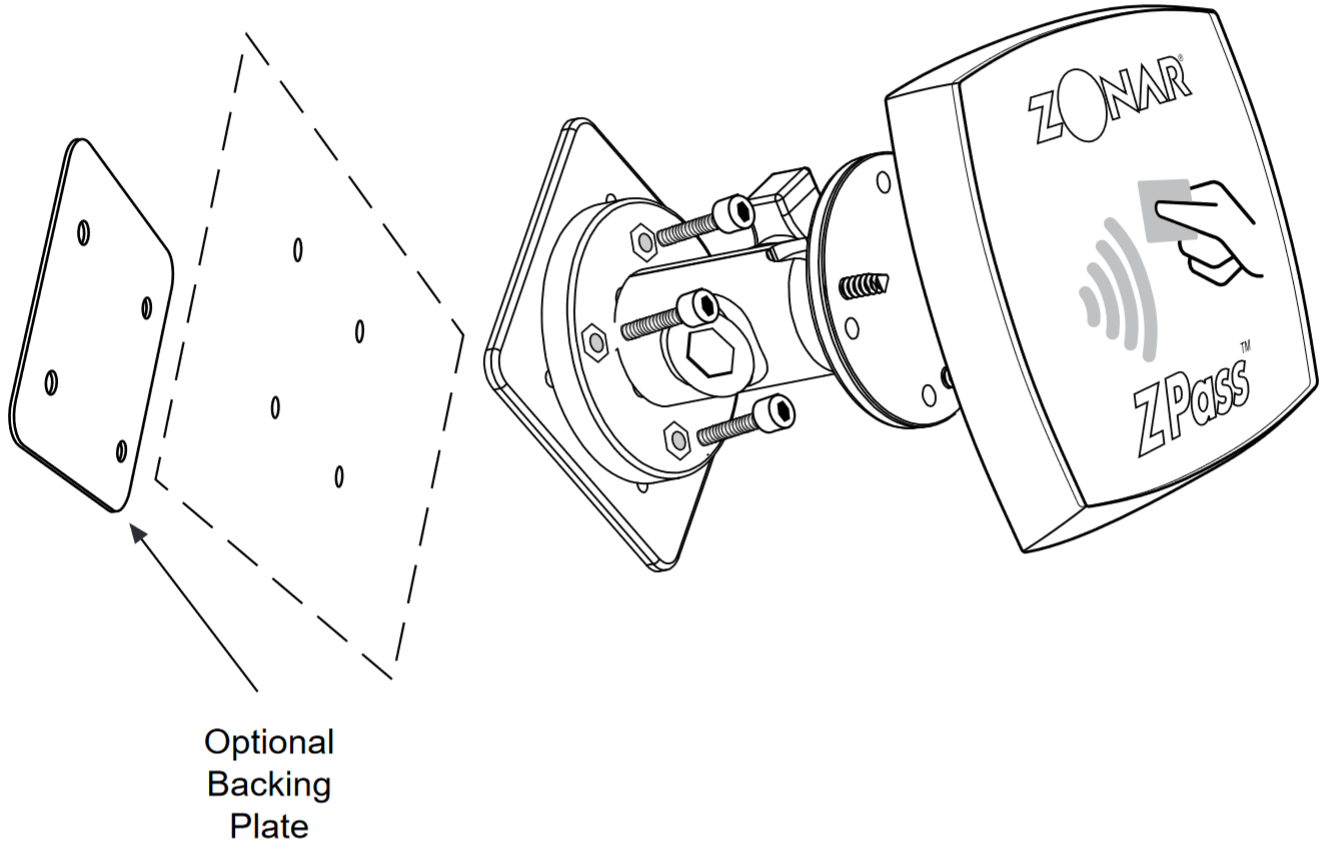 Operation
| | | | |
| --- | --- | --- | --- |
| Color | State | Description | Notes |
| Blue | Solid | Ready to scan cards | |
| Green | 1X Blink & Audible Beep | Successful card scan | Scan occurs within 2" of reader |
| Red | 1X Blink | Synchronizing time | |
| Yellow/Orange | Solid | Receiving firmware update | Takes approx. 3 minutes |
Post-Install Check
Start vehicle to establish GPS and Cellular connections on GPS unit.
Reader LED should be a steady blue to indicate that the reader is ready to accept card scans.
Scan student card. Reader LED should blink green and beep once to acknowledge a successful scan.
Reader LED should return to a solid blue state to indicate it is ready for additional scans.
Verify successful card scan on Ground Traffic Control website (under Reports > Z Pass Events).
Wake-Up Button
Used to wake up the Z Pass reader when it has gone to sleep (LED unlit).
If the Wake-Up button does not wake the Z Pass unit, you must start the vehicle's engine.
Notices
Warning: (Part 15.21)
Changes or modifications not expressly approved by Zonar Systems could void the user's authority to operate the equipment.
Caution: RF Exposure (OET Bulletin 65)
To comply with FCC RF exposure requirements for mobile transmitting devices, the antenna(s) used for this transmitter must be installed to provide a separation distance of at least 25 cm (10 inches) from all persons and must not be co-located or operating in conjunction with any other antenna or transmitter. Users and installers must be provided with antenna installation instructions and transmitter operating conditions for satisfying RF exposure compliance.
Use only supplied and approved antennas. Use of unauthorized antennas or modifications could impair signal quality, void your warranty and/or result in violation of FCC regulations.
FCC Compliance Statement (Part 15.19), IC Compliance Statement (RSS-210)
This device complies with Part 15 of the FCC Rules and with RSS-210 of Industry Canada (IC). Operation is subject to the following two conditions:
This device may not cause harmful interference, and
This device must accept any interference received, including interference that may cause undesired operation.
Warranty And Legal Notices
For more information regarding Zonar Warranty and Legal Notices, see the Zonar Product Warranty page on our website (https://support.zonarsystems.net).