Changing Duty Status
From the application home screen, tap the menu icon in the upper left corner of the screen and tap Update Duty Status, or tap the Duty Status tile on the tablet home screen.

Tap the desired duty status: Off Duty, Sleeper Berth, Drive, or On Duty.

If Special Duty statuses are enabled, tapping Off Duty or On Duty may present you with a further selection.

Required. Enter the Total Vehicle Miles from the odometer.
Required. Enter an annotation in the Notes.
Tap Save.
If you are going Off Duty and you have not certified today's logs, you will be prompted to certify them the next time you log in. See Certifying Driver Logs.
Operating Zone and Ruleset
Available rulesets are dependent on the Operating Zone you are currently in. When updating rulesets, you must specify which zone you are in as well.
The available operating zones are:
United States
Canada S. of 60: South of the 60th Parallel (British Columbia, Alberta, Saskatchewan, Manitoba, Ontario)
Canada N. of 60: North of the 60th Parallel (Yukon, Northwest Territories, Nunavut)
Updating Zone and Ruleset
In ZLogs, press the menu icon to open the menu.
Select Ruleset/Zone. You are presented with the option dialog.

If you need to change the zone, tap Zone to display the list of possible zones. Select the one that corresponds to your current location.

This setting cannot be controlled automatically. It must be set by the driver.

The Ruleset dropdown will change depending on which Zone is selected. Tap to select:


United States: Any available applicable rulesets.
Canada (both North and South): Cycle 1 or Cycle 2.

Comments (optional): Enter any applicable comments on changing zones or cycles.
Tap Next.
ZLogs will ask you to confirm your selection. If you need to make a change, tap Back. Otherwise, tap Confirm to complete the change.

Ruleset Change Restrictions
Changing from Cycle 1 to Cycle 2: The driver must have been in Off Duty for at least 36 hours prior to changing rulesets.
Changing from Cycle 2 to Cycle 1: The driver must have been in Off Duty for at least 72 hours prior to changing rulesets.
Automatic Duty Status Changes
To keep a driver's duty status current and accurate, manual updates should be made to a driver's logs. However, a driver's logs are automatically updated in the following circumstances.
Auto-D - When the vehicle moves at a speed greater than 5 MPH the active driver logged into the tablet will be placed in the "Drive" duty status.
Auto-ON - When the vehicle has been idle for five minutes a prompt will appear asking the driver if they want to remain in "Drive" or update their duty status. If the driver does not respond to the prompt within one minute, the duty status will automatically be changed to "On-Duty."
A prompt will appear in the following scenarios, but will not automatically change duty status:
Exiting Drive: When the engine is turned off, a prompt will appear asking the driver if they want to change their duty status to something other than D.
Off Duty Deferral
Canada ELD permits drivers to defer a portion of off-duty time to the next day to allow for a longer driving period.
In ZLogs, press the menu button.
Select Defer Off Duty Time.
Select the number of hours to defer.
Add optional comments.
Select Confirm.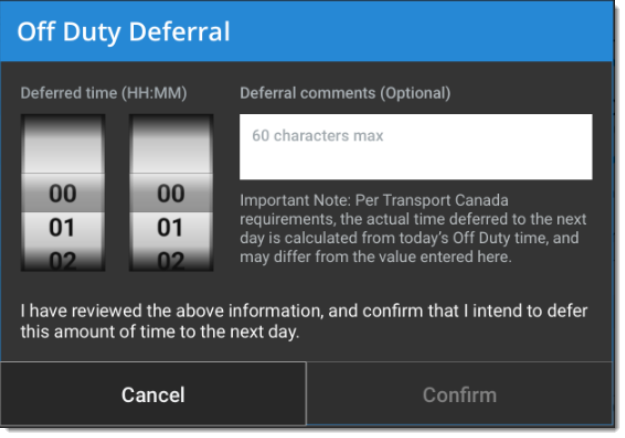 Driver Log Additions and Edits
From the ELD application home screen (titled "Driver Logs"), a driver can manually add a new log entry or update existing entries that may have been created incorrectly or that contain incorrect information.
It is the driver's responsibility to ensure that their logs are correct.

Add Log - Allows you to add a duty status change as a log entry at a specified point.
Edit pencil – Displays to the right of a log entry that can be edited. If a log entry does not have an edit pencil, this means that it was automatically captured and therefore cannot be edited.
Adding A Log
Tap .
Enter the Start Time.
Select a Duty Status from the drop-down.
Enter Total Vehicle Miles and enter your Location.
Required. Enter an annotation in the "Notes" section that explains the reason for a new log entry.
Tap Save.

The driver cannot add a log that comes before their first day of using ELD.
Editing A Log
Tap the edit pencil to the right of the log entry.
Make changes to the log.
Required. Enter an annotation in the "Notes" section that explains the reason for a completed edit to a log entry.
Tap Save.

When Can I Edit A Log?
The various pieces of a duty status log event are editable in different circumstances:
Start Time: Can never be edited once a log is added, whether manually or automatically.
Duty Status: Can be edited for all manually-added log events and for all automatic log events

except

Auto Drive. If an Auto Drive event persists past the vehicle powering down, the system will create a Manual Drive event at power off which can then be edited.
Vehicle Miles: Can be edited

only

if the ELD is unable to capture vehicle miles from the vehicle's ECU.
Location: Can be edited

only

if the ELD is unable to capture location from the GPS.
Notes: Can always be edited.
In addition, there are two special types of log events:
Special Duty Status: Special Duty Status events such as Personal Conveyance or Yard Moves may be edited into Auto Drive status, but otherwise cannot be edited once added.
Unidentified Log Events: Unidentified Log Events which are accepted into a driver's logs cannot be edited. They can still be unassigned from the driver's logs, at which point the events are returned to the dispatcher's view in Ground Traffic Control.
Log Audit Trail
After a log entry has been edited, an arrow icon will appear on that entry.

Tap the arrow to expand the entry and view the history of changes to that entry. Tap again to close.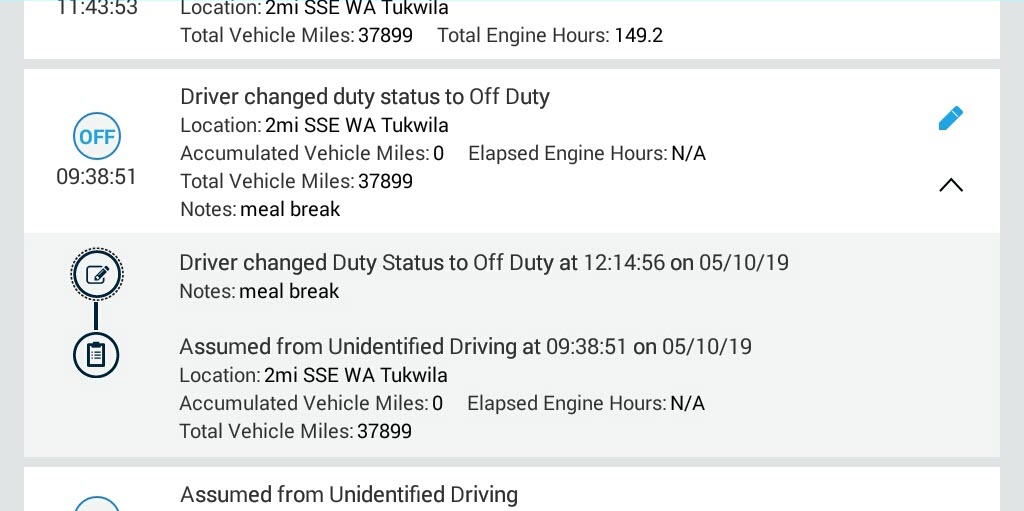 Certifying Driver Logs
The driver is responsible for keeping accurate logs. Drivers must certify their logs on a daily basis and any logs older than 13 days must be certified before continuing to use Zonar Logs.
If the driver has not certified logs from previous days, when the ELD application is launched it displays the "You have logs to certify and submit" prompt.
On the Logs to certify screen, tap Certify Now or Do Later.

On the Certify & Submit Logs screen, tap Accept to certify each log or tap Do Later to delay the certification.

After a driver certifies their logs, a dispatcher can review those logs and suggest edits. The suggestions can be accepted or rejected by the driver. If they are accepted, the driver will be prompted to re-certify those logs. On the thirteenth day after creating a log, the driver must certify the log before proceeding. Logs will continue to be recorded for the driver in the background, but the Zonar Logs application is suspended until the logs are certified.
If a driver performs an edit, or accepts a suggested log edit or an Unidentified Driving event for a certified log, this changes the status of a certified log and it must be re-certified. Make sure that you carefully review any changes to your logs to keep them accurate.
Every time a log is recertified the application adds a note on the List view indicating the number of times that day has been certified as follows:
If a driver certifies a day, and later makes a log edit for that day, the driver has to recertify that day. List view will indicate this is a second certification.
If the driver makes a third edit on that day, the driver has to recertify the day again, and it will be listed as the third certification.
Every time that a driver certifies and then does an edit, the application will indicate how many times they certified that day. These list view items can stack on each other.
---