Introduction
Zonar tablets and the Zonar 2010 handheld are built to withstand most outdoor weather, but even the most rugged hardware can corrode or accumulate dirt in sensitive areas, making them more difficult to use. This article describes the regular necessary care to maintain Zonar handhelds for consistent operation.
Maintenance Schedule
How often the handhelds and docks are checked and cleaned may vary by your organization's needs. However, Zonar recommends that drivers keep the docks clean of debris as needed, with the device and dock inspected and cleaned as part of routine vehicle service maintenance every 3 to 6 months.
Materials
Keep these common materials on hand for cleaning the electronic contacts:
A

plastic-safe

contact cleaning solution such as:

90% isopropyl alcohol
CFC-free electronic contact cleaner with hexane
Deoxidizing pen

Cotton swabs
Optional: rubber eraser for difficult corrosion
Dry cloths
Canned air
Do not use vinegar or ammonia-based cleaners, as these corrode electronic components and can worsen the problem. This includes most multi-purpose cleaners like Windex, 409, Lysol, and others.
Do not use abrasive tools such as a wire brush. These can damage the contacts and prevent a clean connection between the handheld and dock.
Checklist
The following tasks should be done during a routine inspection.
Inspect the dock for loose debris. Clear any debris away with a dry cloth or canned air.
Inspect the dock and handheld contacts for stains and corrosion. If necessary, clean these using the following steps:

Remove the handheld from the dock. If the handheld has a rubber sleeve, remove that as well.
Apply contact cleaner to a cotton swab. Scrub the contacts in a circular motion with the swab. If the corrosion is particularly difficult and does not fully come off with two applications of cleaner, use a rubber eraser.

See below for examples of clean and corroded contacts.

Check for misaligned or broken pogo pins in tablet docks. The pins should retract smoothly into the dock when pressed with a finger, then spring back into place when released. If any pins are broken, swap in a working dock if possible. Even one broken pin can cause data or charging issues that will interfere with operation.

Check the cable harness connected to the dock. There should be no corrosion and no loose, frayed, or broken wires. Secure the connection if loose, or swap out the harness if too damaged to repair.

If the dock is attached to a ball mount, check that the mount is positioned correctly and sufficiently tightened down.

Handheld Devices
Handhelds have metallic contacts on the bottom that enable power and data transfer through the dock. These can become corroded, especially in humid or coastal environments.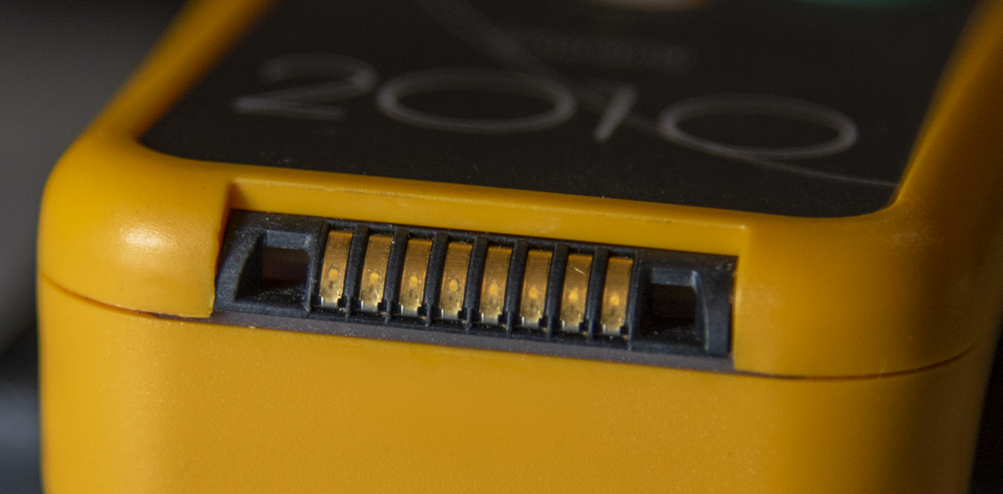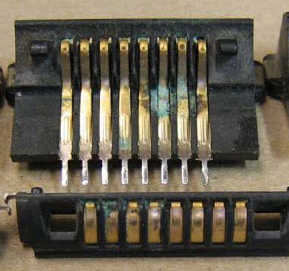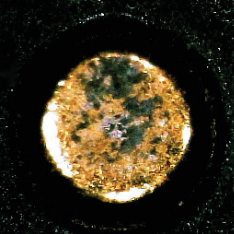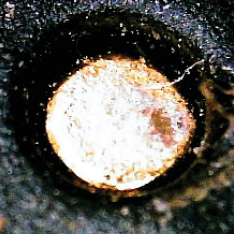 Docks
Docks have metallic pins (sometimes called pogo pins) that match the handheld contacts. These can similarly become corroded, and additionally may become stuck or bent out of shape, hindering solid contact.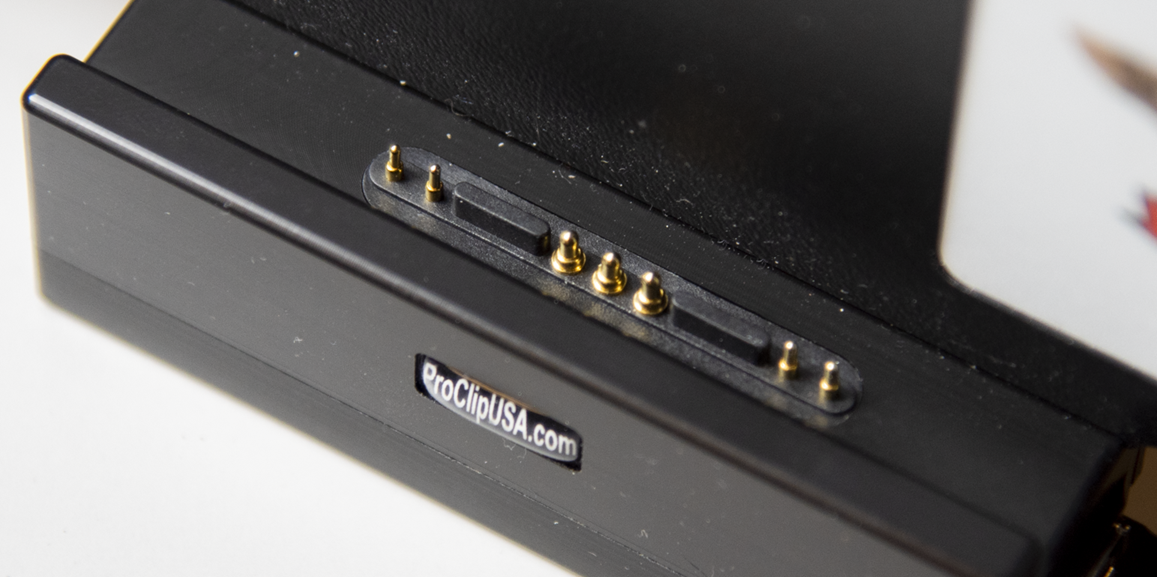 Some docks are cupped, providing a stable spot for the handheld to rest. These cups can collect debris and water over time.