The Track Missing Inspections on Assets report displays assets that travel a specified distance, or equipment operated for a specified duration of time, without having completed and uploaded an inspection.
To access the Track Missing Inspections on Assets report, from the main menu click Reports, then go to EVIR Inspection and click Track Missing Inspections.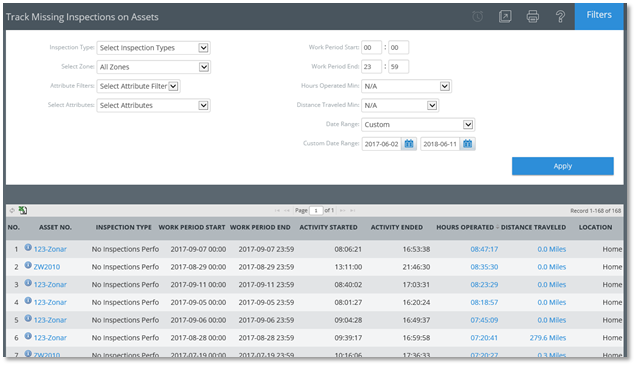 Filters

Select from the following filters to display only certain assets in the results.

Type: Displays the configuration used when the inspection was performed. If the database is configured with multiple inspection types, a drop-down menu will display the various types and more than one type can be selected by checking the box next to the inspection type.

Zone: Select a specific geographical filter to display only assets that uploaded an inspection within that zone.

Attribute Filters: Asset Attributes allows the assignment of attributes to resources and can be managed by Attribute Filters. This preset filter can be applied to the report through the drop-down menu.

Attribute: Displays the assets that have the specific attribute(s).

Date Range: Select from the range of dates such as today, yesterday, last 7 days, last 30 days, and custom. When picking custom as a date range, note that a beginning and ending date must be selected in order to generate the report.

Hours Operated: Select a specified duration that an asset has been operated without uploading an inspection.

Distance Traveled: Select a distance an asset must travel without having uploaded an inspection.

Asset

Clicking on the Asset Info  icon will display the available asset information. Clicking on the asset will display all EVIRs reported for that asset.

Inspection Type

Displays the inspection type that has not been performed.

Work Period Start

Displays when the asset was powered on.

Work Period End

Displays when the asset was powered off.

Activity Started

Displays the starting time for when an asset has not completed an inspection, this is triggered by the movement of the asset.

Activity Ended

Displays the time that an asset has powered off for the work period without completing an inspection.

Hours Operated

The time that has elapsed without an inspection performed.

Distance Traveled

Displays the total distance an asset has traveled without performing an inspection.

Location

Displays the asset's configured location; this is specific to the location filters throughout Ground Traffic Control.