Admin Expiry Types allows you to create measurable Expiry Types that can be assigned to assets or drivers. For example when maintenance is due on an asset or when a Driver's certifications expire.
To access the Admin Expiry Types, from the main menu click Manage, then go to System Settings and click Legacy Expiry.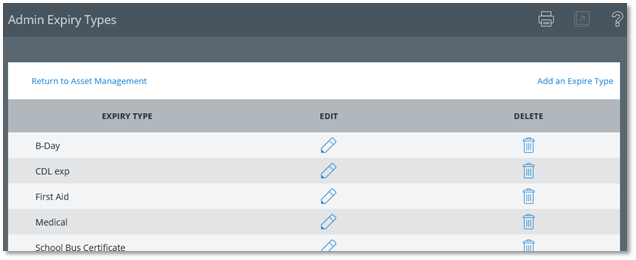 | | |
| --- | --- |
| Return to Asset Management | A quick link over to the Manage Assets section of Ground Traffic Control |
| Expiry Type | The name of the Expiry Type |
| Edit | To edit an existing Expiry Type, click its edit link |
| Delete | To delete an existing Expiry Type, click its delete link |
| Add an Expire Type | Click to add a new Expiry Type |
Add/Edit Expire Date Type
Clicking Add an Expiry Type will allow the entry of a single new Expiry Type. Use less than 32 characters.

When adding or editing an Expiry Type, enter the name and click the "Add" or "Update" button. This will add the Expiry Type to the list and make it available in the Manage Assets section.