Location filters are used for simple geographic or logical grouping and fleet separation. Locations can be applied to Assets, Drivers, Operators, and Ground Traffic Control users. If Ground Traffic Control users are set to a specific location filter, they will only be able to view assets and drivers assigned to that specific location. To access Admin Locations, from the main menu click Manage, then go to System Settings and click Locations.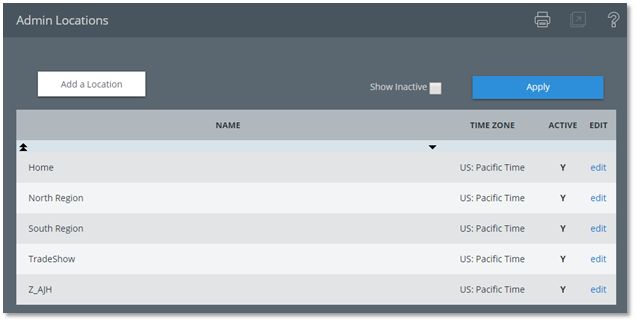 | | |
| --- | --- |
| Add a Location | Click this link to add a new location filter. |
| Show Inactive | Selecting this check box and clicking the "Apply" button will show all locations that have been marked as Inactive. |
| Locations | By default, only the active locations are displayed in the list. Selecting the Show Inactive check box will include all locations in this list. |
| Edit | Clicking edit will allow the editing of the name and the status of an existing location. |
Note: It is not possible to delete locations. If a location is no longer used or should be removed from the list, click the edit link and set the "Active" property to "No" and then update. This will remove the Location from the list and throughout Ground Traffic Control.
Add/Edit Location
Click Add a Location to create a new location; click edit to change an existing location.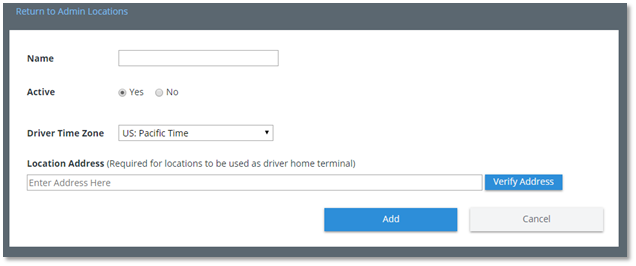 | | |
| --- | --- |
| Name | Enter a name for the location |
| Active | Select yes or no. |
| Driver Time Zone | Affects the time on the tablets that a driver uses, based on the timezone used when setting up the driver. |
| Location Address | Enter the location address. Click Verify Address to check that it's a valid address. |
| Add | After entering or updating the location, click Add (Update if editing) to save the changes. |