The Mileage report provides the distance traveled for one or more assets meeting the specified criteria during the selected date range.
A benefit of this report is that is allows for easy summary and analysis of miles driven during the user's selected time frame.
To access the Mileage report, from the main menu click Reports, then go to GPS Track & Trace and click Mileage.
Filters
Select and apply filters to view a mileage report. By default, all active assets that reported distance traveled will be reported. Adjust the following filters to report specific assets.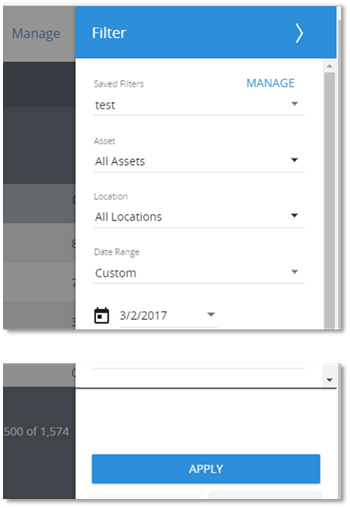 | | |
| --- | --- |
| Asset | Select a single asset, show all assets separately, or show the total miles traveled for all assets within the account |
| Location | Select a single location or use the default setting all locations for the generated report. |
| Date Range | Select a date range from today, yesterday, last 7 days, last 30 days, or custom which allows you to pick the beginning and ending date for the generated report. Note that you may set a maximum range of three months for the generated report. |
| Attribute Filter | When a specific attribute filter is defined in Manage > System Settings > Attribute Filters, this preset filter can be applied to the report through this drop-down. |
| Attributes | If a preset Attribute filter is not set and chosen in the Attribute Filters drop-down, specific attributes can be selected and the results will be filtered. This will need to be selected each time the report is run. |
| Asset Status | Clicking the dropdown menu will allow you to sort for active, inactive, or both statuses for the generated report. |
| Show 0 Mile Assets | By default, assets that did not move will be omitted from the report. Checking this box will include them in the report. |
Report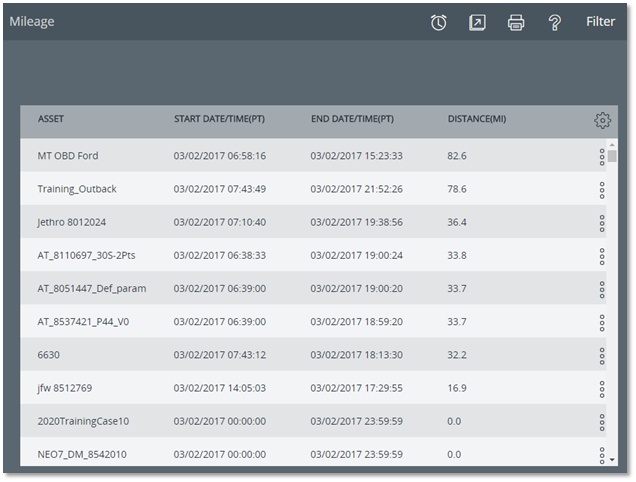 Asset
The asset that is being reported. Clicking on the info icon at the far right will display the available information for the asset.
Zone
The zone specified in the filter that the mileage occurred within
Date Range
The date specified in the filter
Distance Traveled
The total distance traveled for the asset during the date range
Fuel Used
If fuel data is available for the selected asset(s), the fuel used (in gallons) during the specified date range will be shown.

Fuel Used is displayed based on information reported from the ECU. Zero gallons or N/A will be displayed if the information was not reported.

View Asset Info
Clicking on the view asset icon  will allow you to see the current information of an asset.

Columns
Click on the gear to show/hide columns.