Reports within Ground Traffic Control contain different filters, so that you can display only information that is relevant to what you're looking for. Filters for Reports throughout Ground Traffic Control will differ from one another. The Filter dropdown menu typically appears above the Report's results table. Expand Filters to define the predefined filter criteria for that report, by which to search.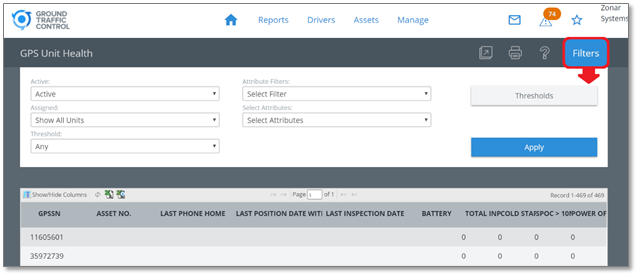 Selecting Filters
Expand the various filter dropdown menus you want to use for filtering the report. Each report provides different filter criteria.
Once you define filter criteria by which you want to search, click Apply and the results table displays data matching your defined filters.
Define a Date Range
Select the beginning year, month, and day to specify a starting date for the generated report.
Select the ending year, month, and day to specify and ending date for the generated report, and then click Get Report.
The search results table displays only the data matching the date range you defined: