Q: Why has my login been blocked?
A: Protecting your company's information is just as important as your safety.
On Tuesday, October 1st, 2019 we launched a new security feature to all of our Ground Traffic Control® (GTC) customer accounts to protect against "credential stuffing attacks." This means there is an additional security check when logging in to GTC or the Zonar Support Site. As usual, the system will verify that the username and password match, and will also check the password against a list of known breached passwords. If the password entered is on the known breached passwords list, you'll receive a prompt like the one shown as well as a password reset email with a link to change your password. Reset your password before logging in again.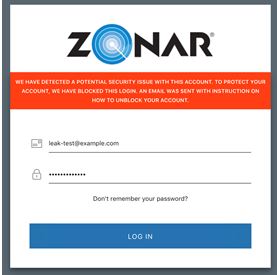 This prompt does not mean that your Zonar account has been breached. It only means that you need to reset your password to help prevent your account from being breached. Your new password will also be checked against the list of known breached passwords and will not allow you to use a password on that list.
We will always do what we can to protect your account and your data. But there are some proactive measures you can take to protect yourself. Use a password manager and create unique, random passwords for each site for which you have an account. Many password managers sync your passwords across devices so you don't have to worry about being without your passwords. Your password manager also remembers your passwords for you.
Q: What does the 500 internal server error mean?
A: This may indicate an issue with your browser. Follow these steps:
Clear the cache and cookies on your browser. Be sure to close out your browser entirely after clearing cache, then re-open. You can also open a new window in private/incognito mode.

Visit Refresh Your Cache to learn how to do this with your particular web browser.

Navigate directly to https://groundtrafficcontrol.zonarsystems.net(NOTE: If you typically use a bookmark, DO NOT USE IT for this step.)
Try to log in with your email and password.
The login page is dynamically generated per visit. If you bookmark the login page, over time the site will experience corruption until it prevents you from logging in completely. Pointing your bookmark to https://groundtrafficcontrol.zonarsystems.net will prevent this from occurring.
If you are still experiencing issues logging in after following these steps, contact Zonar Customer Support.
Q: Does every user need to have a unique email address and password?
A: It is possible to use a shared login such as dispatchers@mycompany.com for multiple users in your organization to share. Be aware that this introduces security risks, user setting issues, and reoccurring email report sending issues. Zonar HIGHLY recommends NOT using email logins that are shared by multiple Ground Traffic Control users.
Q: What happens if more than one user logs in to Ground Traffic Control with the same email/password combination?
A: Ground Traffic Control will allow multiple instances of the same email/password combination to be logged in. However, this will still only be associated with one user's profile. Having more than one person use the same combination to log in introduces a security risk to your Ground Traffic Control account. If someone who uses the shared email address leaves the company, then that email address would need to be removed from the authentication system or their password would need to change. This will result in the remaining users having to utilize a new email for their access needs.
Q: Do I need to use a "@workaddress.com" address or can I use a public domain (Gmail, Yahoo, etc.) in Ground Traffic Control?
A: Zonar will allow for any domain name, however, your company's IT department may require a work address. Check with your company's IT department.
Q: Can I integrate Ground Traffic Control logins into my company's active directory?
A: Not at this time.
Q: Does the OMI/API user in my account require a unique email associated with it?
A: No. Currently the API still requires a username and password, rather than email.
Q: I have not logged in since before November 2017. I know I have a username and password, but I cannot log in.
A: The website and login authentication process was revamped in November 2017. Logging in now requires a unique email address, which may not be present on your user profile. Contact your account administrator to regain access.
Q: Why am I being asked to log in on this screen?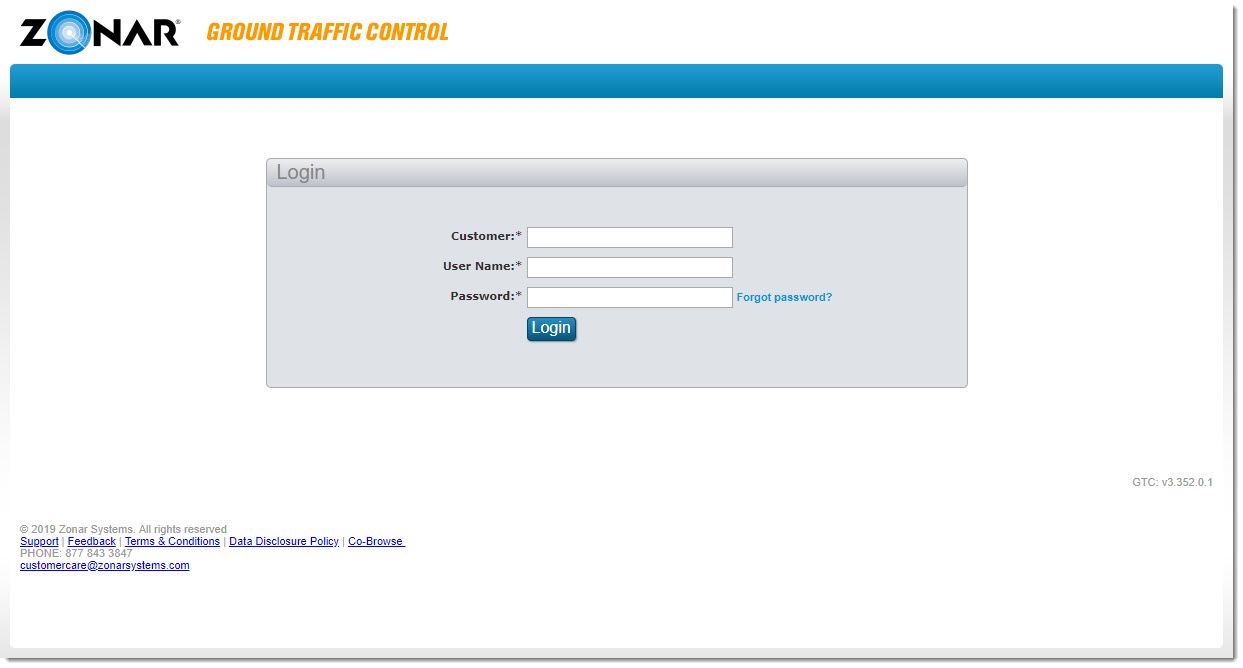 A: If you are seeing this login screen, you have been directed to the legacy Ground Traffic Control site. Mobile browsers may do this instead of or after logging in to the main Ground Traffic Control site, and there is a link on the main site that leads here as well.
To log in, you need:
Account Code (three letters followed by four numbers)
Login Name
Password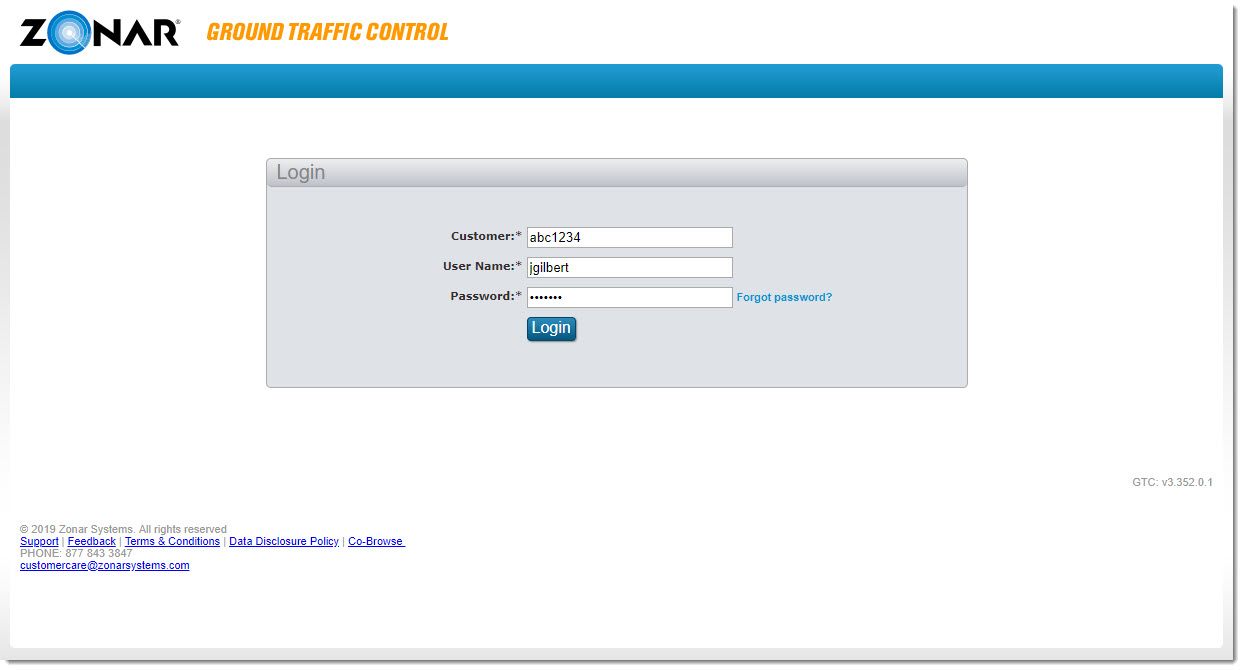 The legacy page does not use your email address to log in. There is a separate login username that must be used instead. The password should be the same.
Your login username is defined when created. Typically it will be first initial + last name, all lowercase, but may be different. It can be viewed by accessing the main Ground Traffic Control site (another user may need to do this), going to Manage > Users (provided they have permission to view this page), and checking your Login Name.

If your password does not work, you can reset it by clicking the Forgot Password link and entering the email address associated with your login. You will receive an email with an automatically generated password. This password is separate from your normal password and does not affect your normal login to the main site. An administrator for your account can also reset your legacy password by clicking the Reset Password button from your user profile: