When performing maintenance on 2010 handheld equipment, occasionally you may find that the entire vehicle mount does not need to be replaced, only the PBCA circuit board, such as in the case of mechanical failure or corrosion.
Zonar provides the internal circuit board (store link) at a lower cost than the full vehicle mount. Instructions for changing the board out are provided below.
Care should be taken when handling circuit boards to ensure that they are kept away from static electricity, liquid or other substances during the exchange process.
What You Will Need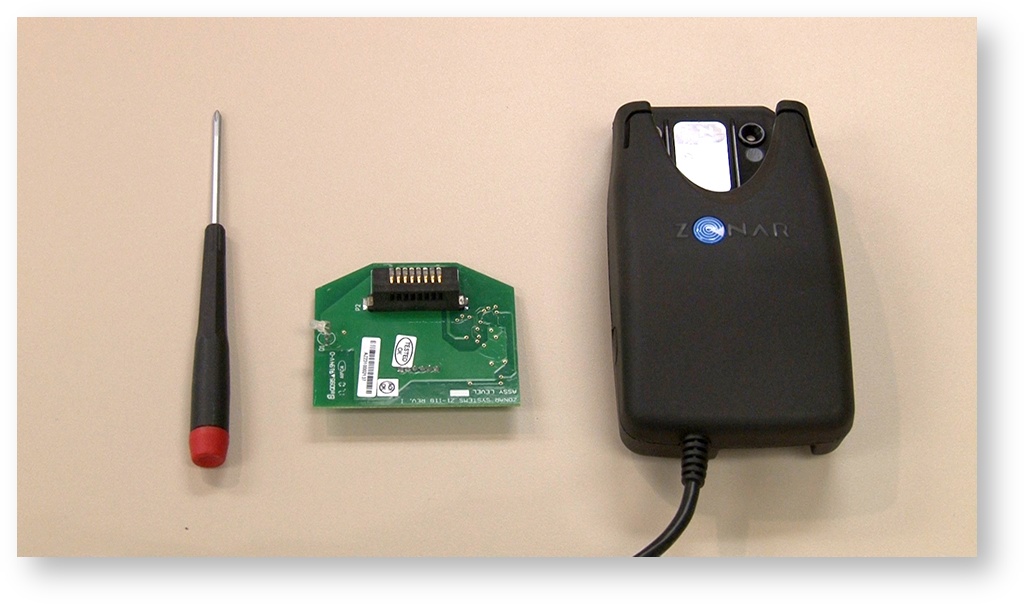 Number 1 Philips Screw Driver
Replacement Board
Access to the Vehicle Mount
Removing the Old Board
Remove the vehicle mount from its installed location by removing the three mounting screws.


It is crucial that you retain the three mounting screws and use them when replacing the Vehicle Mount to it's installed location.

Using the #1 Philips screw driver, remove the three retaining screws from the back of the mount as indicated by the arrows:


Using two fingers, gently rock the connector, side to side, out of the socket on the circuit board (indicated by the arrow).

Installing the New Circuit Board
Insert the cable connector into the new circuit board by lining up the grooves on the connector and socket.


When pushing the connector into place, support the back of the circuit board, directly behind the connector, with a finger to ensure it doesn't crack as pressure is applied to the connector.

 
Place the circuit board back into the front cover piece. Ensure that the cable is properly seated into the cover.

Ensure that the small plug on the left side of the vehicle mount is in place:

Ensure that the status LED is aligned with the slot in the cover:

Replace the back cover piece, ensuring proper alignment of the board, connector and LED:

Replace the three retaining screws into the holes and tighten with the #1 philips screw driver.

Re-install the vehicle mount using the three mounting screws that had been previously removed.
Dispose of the removed circuit board in accordance with local regulations.