Before Installation
Record Necessary Information
The installation technician must record which equipment is being installed in each vehicle before any Zonar equipment is installed.
Find the GPSID (S/N) number on the back of the unit. This number may be 7 or 8 digits long.

Record the following information, which is necessary to correctly associate Zonar data with the vehicle after installation:

Asset number or name
VIN
GPSID
Tablet S/N (if installing a tablet)
Any other serialized equipment numbers being installed
The following is a sample sheet used to record necessary information:
| | | | |
| --- | --- | --- | --- |
| ASSET | VIN | GPS ID | TABLET SN |
| Truck 12345 | | | |
| Tractor 54563 | | | |
| Service Truck 5432 | | | |
Set Up the Zonar Inspection Tags
Skip this section if electronic inspections (EVIR) will not be used for the vehicle receiving installation.
Vehicle Tags
Clean the surface area of the asset with isopropyl alcohol or brake cleaner before installing tags.
Remove the adhesive from the asset tag and record the Tag ID number on the asset sheet along with the necessary information above:
| | | | | |
| --- | --- | --- | --- | --- |
| ASSET | VIN | GPS ID | TABLET SN | ASSET TAG |
| Truck 12345 | | | | 5387xxxx1 |
| Tractor 54563 | | | | 5387xxxx2 |
| Service Truck 5432 | | | | 5387xxxx3 |
See the Zonar Configuration Document for proper zone tag placement.
Install the zone tags in the proper areas for the corresponding vehicle inspection type. Depending on the configuration, not all zone tags may be used. Extra tags may be returned to the customer.
Perform an electronic inspection to ensure correct tag placement.
Operator/Driver Card:

Nine (9) digits
Specific to driver

Zone Tags:

Numbered 01-11
Specific to location on vehicle

Asset Tags:

Nine (9) digits
Specific to vehicle
Required Equipment
Below are lists of equipment necessary to have on hand for installing each Zonar system. Zonar-provided equipment will have part numbers listed, while equipment without part numbers must be supplied by the site or installers.
Base Equipment
TCU (one required)

V4 variant (V4, V4 Base, V4R)
V3 variant with 4G converter (V3, V3R, VTHU)

Vehicle Connection Cable Options

Vehicles 2006 and newer

9 pin diagnostic cable (p/n 81523)
OR
9 pin splitter cable (p/n 81658)
Splitter cable is not compatible with black-capped 9-pin cables.

Vehicles older than 2006

9 pin diagnostic cable (p/n 81523)
AND
6-9 pin adapter (p/n 81632) - For vehicles with a 6 pin diagnostic port
Tablet equipment
This information will apply to most if not all make/model installs:
Tab Active2 (p/n 20134)

Tab Active2 dock (p/n 20136)
Cable assembly (p/n 81656)
RAM mount w/ backing plate (p/n 20124)

Zonar Connect (p/n 20081)

Connect dock (p/n 20117)
Cable assembly (p/n 20062)
RAM mount (p/n 20059)
Tablet installation equipment
7/8" inner diameter grommet for routing wiring through dashboard

Zip ties for keeping wiring secured
7mm nut driver with hollow shaft for securing RAM mount

Alternate mounting equipment when a RAM mount backing plate cannot be used

#10-24 coarse Nylon lock nuts
3/16" x 1 – ¼ in fender washers
Round head machine screws #10-24 x 1-1/2 in
Z Pass equipment
Z Pass SRT (p/n 30025)
Z Pass RAM mount kit (p/n 30024)
Z Pass SRT accessory kit (p/n 30033)
Z Pass install equipment
5/8" inner diameter grommet
I/O equipment
Zonar I/O harness (p/n 80059)
18 AWG spools of wire to run to each monitored circuit
Butt-splice connectors to attach wire to I/O harness
1N4001 diodes when installing more than one I/O
Best Practices
Cabling
All cables and wiring must be secured properly and out of sight.
Bundle the excess cables and wiring lengthwise rather than circular.
Secure the excess cables and wiring to existing factory wiring or dash brackets to prevent the cables from rubbing against sharp edges behind the dash.
Always use enough zip ties to properly secure the cables and wiring.
Always cut or trim zip ties as flush as possible, and avoid trimming at an angle.
Mounting
V4 (TCU)
Never mount the V4 to removable objects or moving parts
Never mount the V4 in a manner that would interfere with the clutch, brake, or gas pedals.
Avoid mounting Zonar equipment near doors and windows that could leak to avoid water damage.
Keep the V4 location consistent within fleets or like vehicles.
If you can't see or feel behind the area, look for a different mounting location.
Use one of the following methods to secure the TCU mounting bracket, in order from most to least desirable:

Screws: Included with installation kit. Use a minimum of two (2) screws when mounting.
Zip ties: Acceptable when there is no place to secure the TCU using screws. Use a minimum of two (2) ties when mounting.
Adhesive tape: Use the tape on the back of the TCU mounting bracket only when no other options are available.
Tablet
The provided backing plate must be used when installing the RAM mount whenever possible.
The base of the RAM mount must seat flush against the dash surface.
Avoid mounting the RAM mount in locations that cause the tablet to be above the top edge of the dash line.
Avoid mounting the RAM mount over the top of information placards.
Flush mounting the tablet dock is acceptable if there is enough space.
IMPORTANT: Consult state and local regulations for acceptable locations for driver interface equipment.
Z Pass
The backing plate is crucial to provide sufficient reinforcement for the Z Pass reader.
Flush mounting the Z Pass reader is acceptable if there is enough space.
Avoid mounting the Z Pass reader in a location where it will be a snag hazard.
IMPORTANT: Consult state and local regulations for acceptable locations for passenger interface equipment.
Coach Camera
Discrete I/Os
Connect the I/O leads to active high circuits when possible (0 volts inactive, 12 volts active).
Avoid involving 3rd-party switches when possible.
When installing more than one I/O, ensure all I/Os are consistent in polarity (all active high or active low).
Never connect to a momentary switch.
Never use more than two (2) butt connections per I/O circuit.
If you aren't sure that the I/O circuit is already fuse protected, install a 1-amp inline fuse closest to the power source.
Keep I/O wire color consistent across the fleet.
When installing more than one I/O, 1N4001 diodes must be installed (in-line) on the I/O harness to prevent unwanted voltage back-feed to I/O circuits #2-5.
Installation
Base TCU Install
Connect the 9-pin diagnostic cable to the vehicle's diagnostic port.
Connect the 8-pin Molex plug on the diagnostic cable to the TCU.
Connect the 4-pin Molex plug on the diagnostic cable to the TCU.
If using a splitter cable, attach the split diagnostic port on the cable in an accessible location.
Mount TCU and secure cabling within the dash once post-install checkout has been completed.
Use a 1.5" hole saw to cut a mounting hole for the open diagnostic port.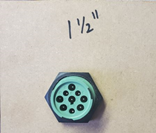 Example location of open diagnostic port mounting: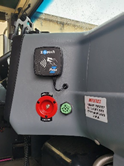 Use zip ties to secure the 9-pin diagnostic cabling to factory wiring/loom as high as possible within the dash.
Tablet Install
Connect the 8-pin Molex plug on the cable assembly to the TCU.
Unplug the 4-pin Molex plug from the TCU. This disconnects the power from the vehicle to the TCU.
Connect the 4-pin Molex port on the cable assembly to the plug you just disconnected from the TCU.
Connect the 4-pin Molex plug on the cable assembly to the TCU.
Mount the ProClip dock in the desired position.
Route the cabling through the dashboard from the TCU to the dock and secure it.
Connect the 6-pin cable from the ProClip dock to the control box on the cable assembly.
Cable routing should streamline from ProClip dock, to RAM arm, then through grommet in dash. Supporting zip-ties should be cut flush.
The tablet control box should be secured to a suitable location using either zip-ties, or screws as pictured below. Do not use adhesive backing as the sole method of mounting this box.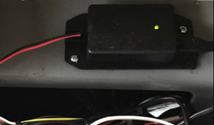 Z Pass Install
Mounted as pictured below using the supplied 3M double-sided adhesive.

Connect 6-pin plug to Z Pass unit.
Route wiring through dash to TCU.
Connect 6-pin plug to TCU.
I/O Install
I/O wiring should be spliced into the desired system such that it reads 0 volts when the system is inactive and 12 volts when the system is active.
Install 1N4001 diodes into the wiring as described in the diode installation section below.
Once the wiring is connected, connect the 12-pin plug to the TCU.
Common I/O connections
The connections listed here are examples. Not all wires may be used, and wire colors may be connected to different systems than what are listed. Check with your head mechanic or fleet administrator for I/Os they wish to have recorded.
| | | |
| --- | --- | --- |
| IO Number | Wire Color | System |
| 1 | Black | Door Open/Close |
| 2 | Brown | Stop Arm |
| 3 | Orange | Reverse Light |
| 4 | Yellow | Wheelchair Lift |
| 5 | Red | Parking Break |
Door I/O Options
Option #1 Key Switch (if equipped)
| | |
| --- | --- |
| Newer model | Older model |

Option #2 Above Entrance Door (air operated)
| | |
| --- | --- |
| Newer model | Older model |
Option #3 Door Open/Close Switch
*Make the I/O connection after the white plug. The picture on the right is an example of what not to do. Thus, if the door switch ever needs replaced the I/O connection does not need to be replaced.
Stop Arm I/O:
Option #1 Electric
Stop arm back

Option #2 Air-operated
Air solenoid
Wheel chair I/O: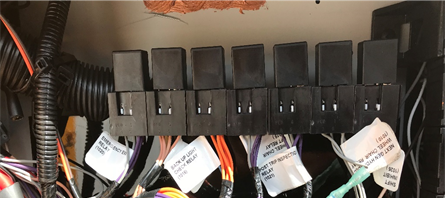 Reverse lights I/O: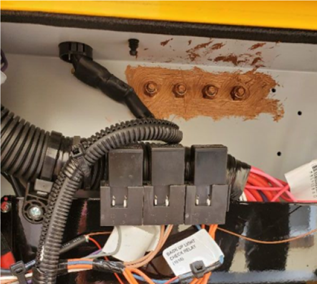 Diode Installation
Cut ½ inch of each end of the diode so it can be fully encapsulated in a 22-18 AWG Perma-seal butt connector:
The diode must be oriented in the correct direction between the I/O wire connected to the monitored circuit, and the I/O harness on the V4. For example, a circuit that sends 12 volts when activated, the Anode should be pointed towards the incoming voltage, and the cathode is pointed towards the V4 (see below):

Heat shrink all the perma-seal butt connectors around the diodes, I/O wires; properly secure with zip-ties in a manner that will keep diodes from taking un-necessary abuse
Using a digital multi-meter to verify monitored circuit voltage for each I/O at V4 I/O Molex plug.
EVIR tags
Tags must be placed in locations that will support Tab Active2 scanning. The Tab Active2 NFC scanner is located roughly in the center of the tablet. The screenshot of the EVIR app below demonstrates more precisely where the tablet can scan EVIR tags.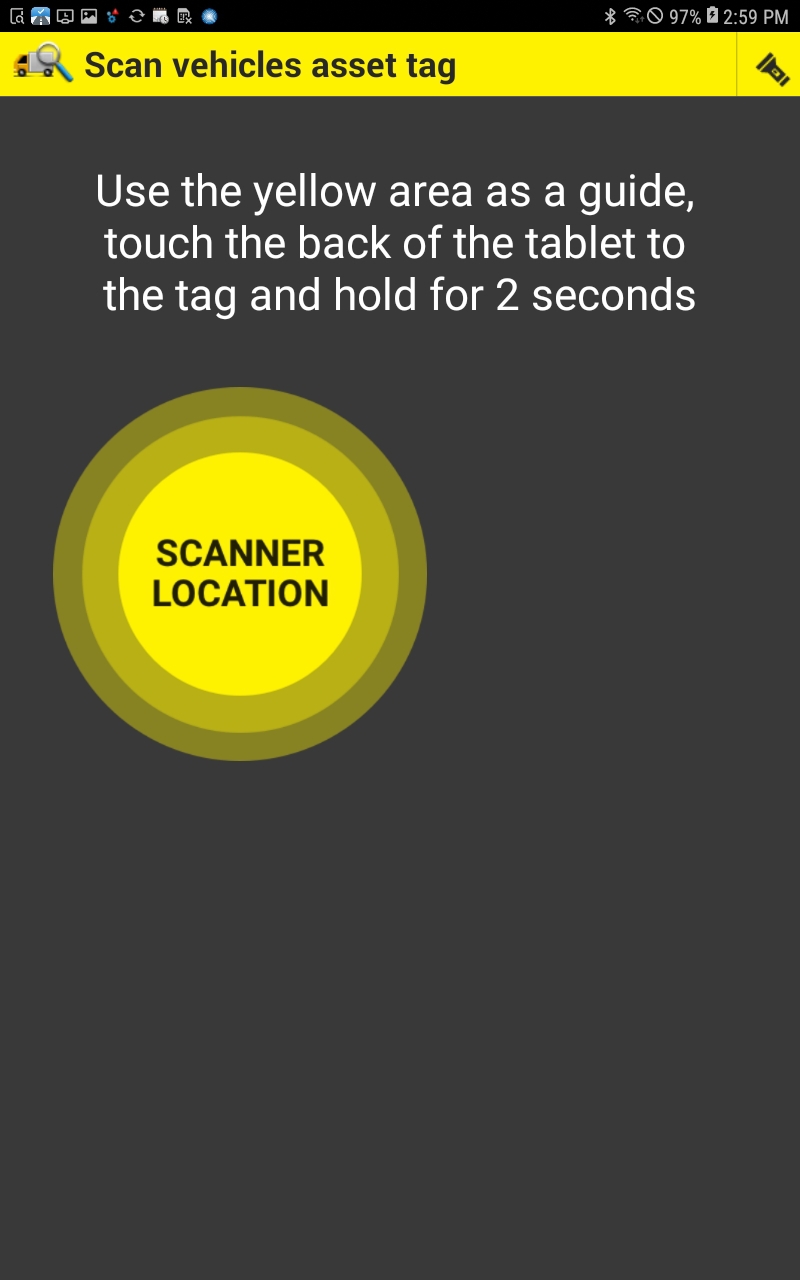 Post-Install Checkout
Every install should have the following done at checkout:
Perform key on/key off, i.e., "keycheck" to ensure V4 recognizes valid constant and run/ignition power.
Perform a Z Pass card scan. The Z Pass unit lights up green and beeps upon a successful swipe. If it fails, it may be necessary to contact Zonar for a firmware update.
Perform EVIR inspection.
Activate I/Os. Successful recording of I/O activation must be confirmed by a person with access to Ground Traffic Control.