Product Safety Information Bulletin UPDATE
RE: Zonar® Light Duty Cable
Product Safety Information Bulletin ZNR-LDC-19-01
Update Overview
---
Zonar has developed a new revision of the Light Duty cable. This version does not require the waterproofing dielectric grease as advised in Bulletin ZNR-LDC-19-01.
Comparison Of Model Revisions
---
When contacting Zonar Systems regarding issues pertaining to Light Duty cables, take care to distinguish whether your issue pertains to the new cables or earlier cables. The model type can be identified by their shape as shown below.
Model Revision N
The new Light Duty cable, termed Revision N or Rev N, employs stronger plastic molding around the OBDII connector to prevent potential water damage. Revision N does not require dielectric grease packets and will not ship with them.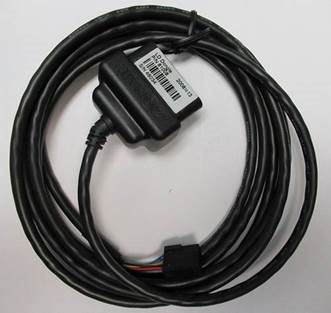 Note the larger plastic molding surrounding the connector compared to Revision M and previous revisions of the Light Duty cable.
Model Revision M and Previous
Revision M and earlier models of Light Duty cable still require the dielectric grease packets to achieve sufficient water resistance.
The form factor for Revision M and prior models of Light Duty cable is provided here for comparison.