Overview
Zonar MobileCommand is an all-in-one dashboard app designed to deliver vital information at a glance. MobileCommand allows you to easily combine load information with route navigation and your remaining drivable hours.
This guide contains instruction for using the Zonar MobileCommand app on either a Zonar device or your own iOS or Android device, as well as basic troubleshooting information.
Signing into the MobileCommand Application
It is necessary to sign into the application to associate the driver with load and hours information.
Tap the app icon on your device.
Enter the Driver Code and Password associated with the MobileCommand account. This information is provided to you by your administrator.
This is not your Apple ID or Android account information. This is the account associated with Zonar MobileCommand.
Dashboard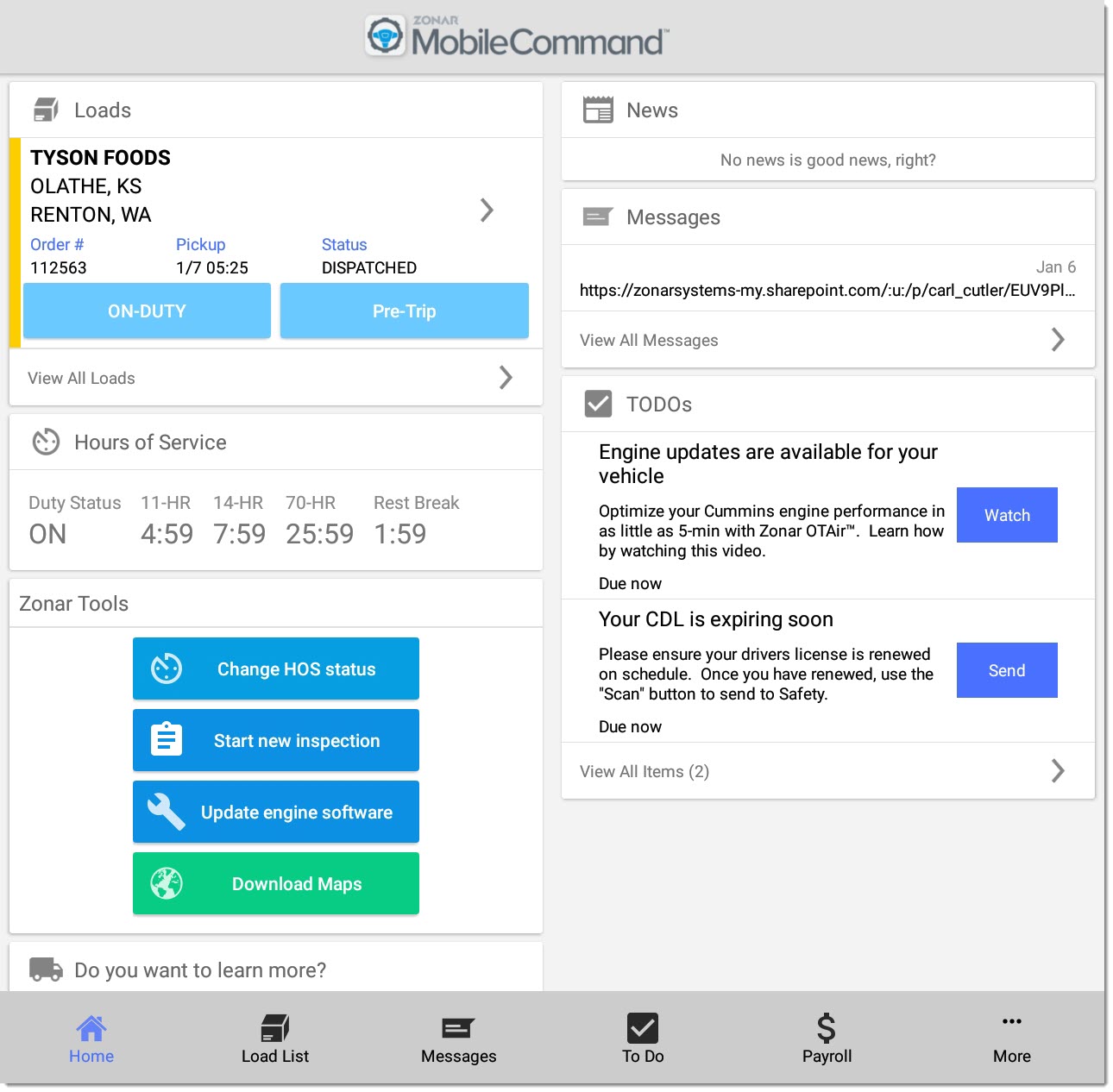 The MobileCommand application is highly customizable. Your dashboard may or may not include some of these sections, and the layout may be different depending on your device.
Loads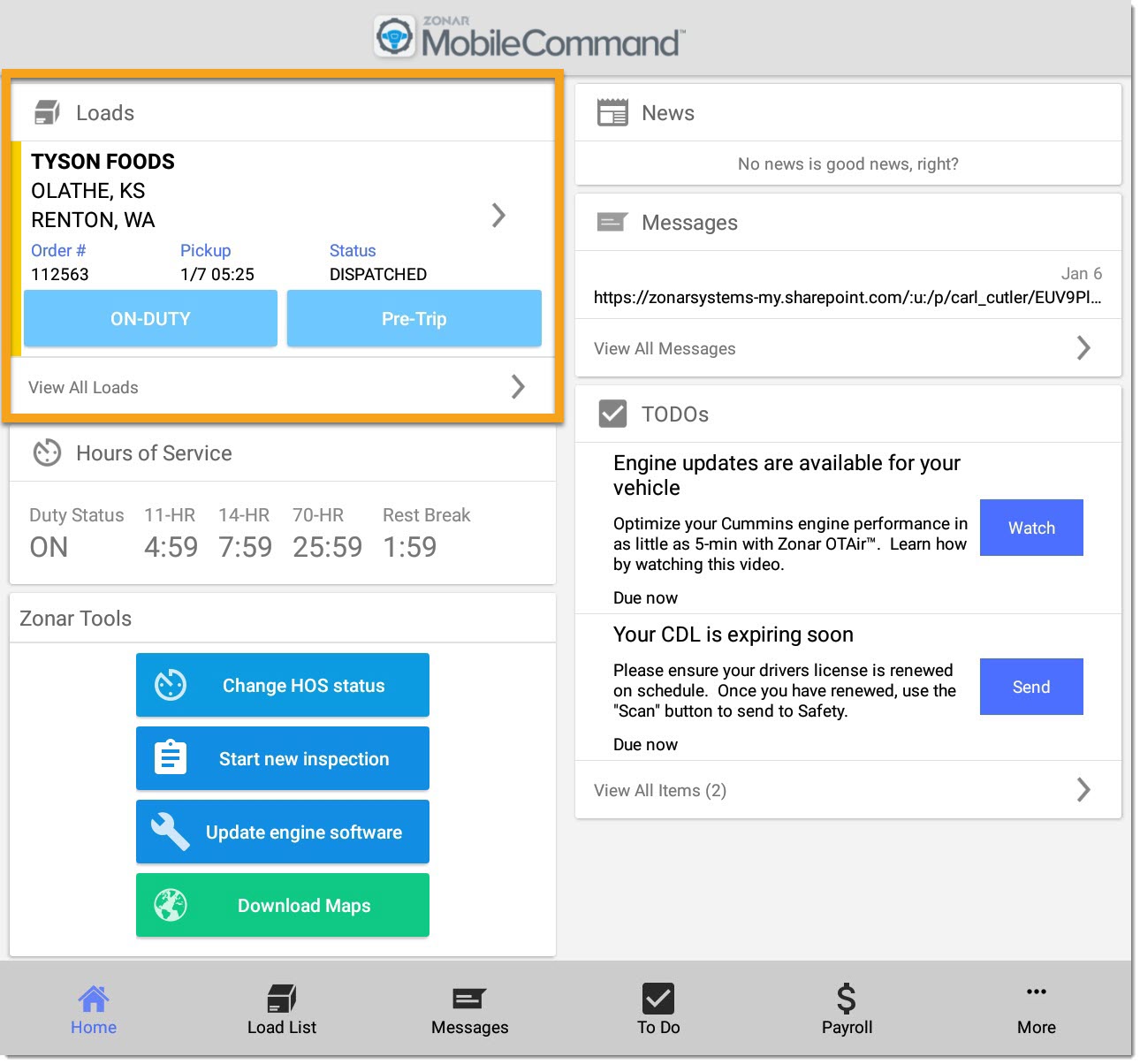 The Loads tile shows your current load, along with basic information. You have the option to change your status to On Duty or start your pre-trip inspection from this tile.
Tap View All Loads to see your load history and any upcoming loads.
Tap the current load itself to view the Load Details screen.

The Load Details screen shows the same status and options for your load on the left side, along with any special instructions and details about required stops.
The right side of the screen displays the route map, along with estimated distance and time. It also displays your remaining drive time for the day and the farthest point on the route you can reach with that time.
| | |
| --- | --- |
| Icon | Description |
| | Each stop on the route receives its own colored pin. |
| | If your current drivable hours are not sufficient to complete the route, this icon will show on the route where your hours will run out. |
Navigation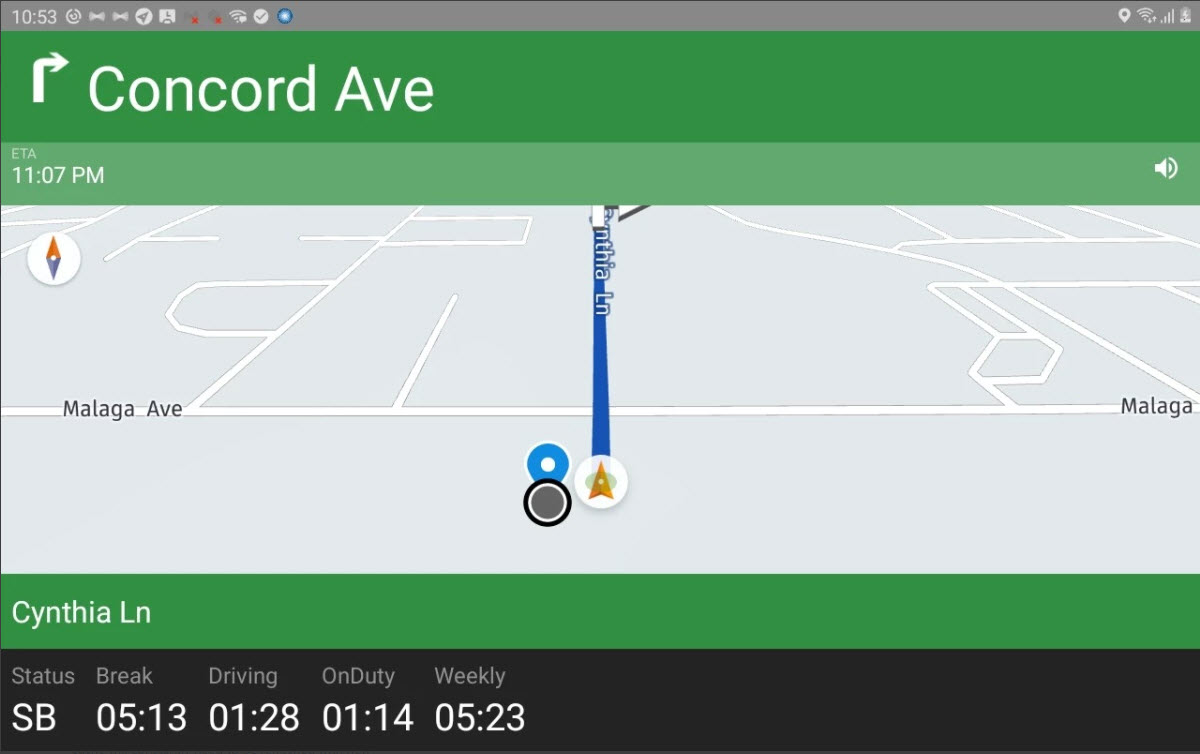 Once a route is selected, MobileCommand includes a turn-by-turn navigation screen, along with your current hours of service remaining.
Hours of Service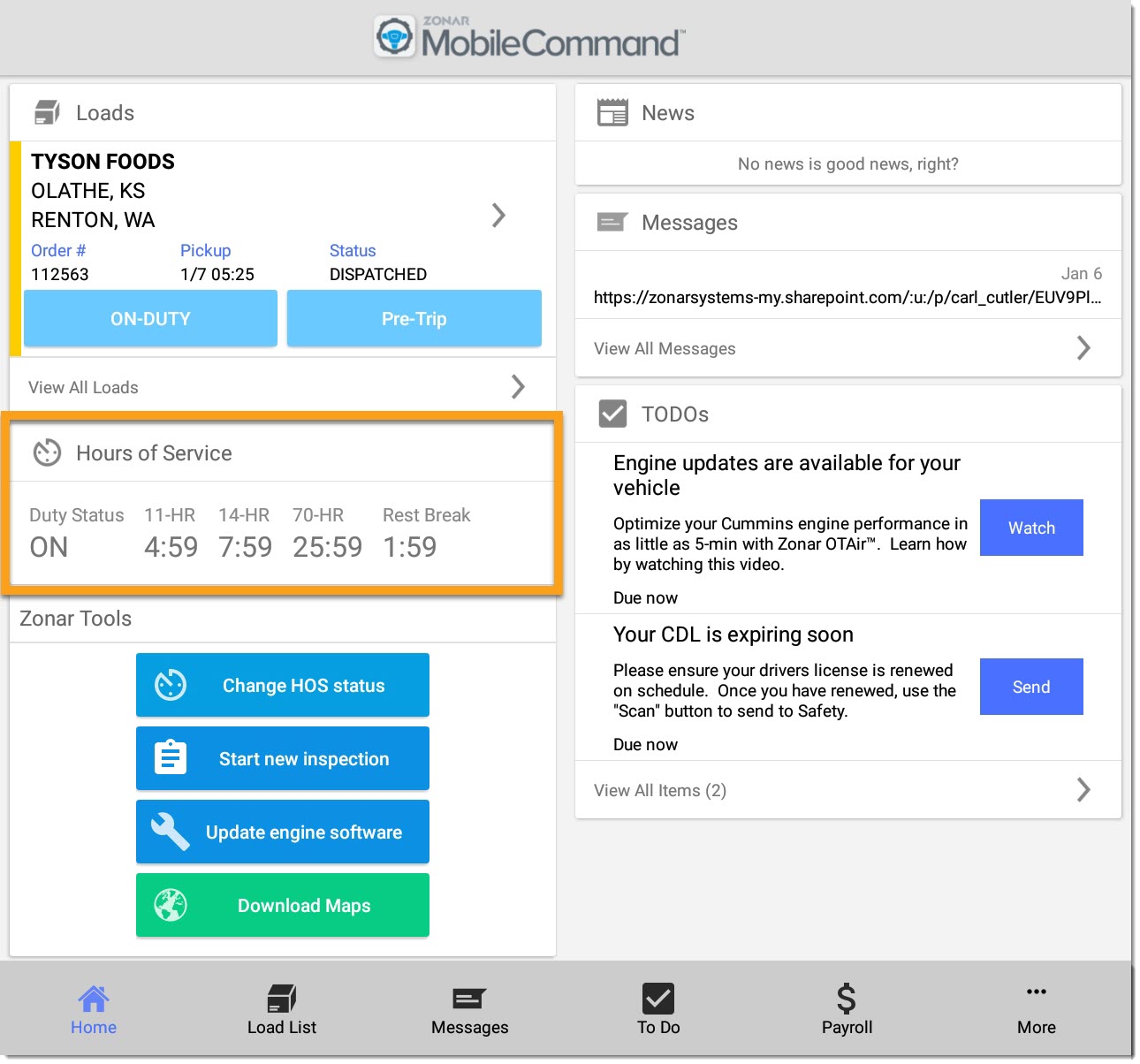 The Hours of Service (HOS) tile on the main screen displays a summary of your HOS as well as current duty status. This is a display tile only; to quickly change duty status from within MobileCommand, tap the Change HOS status button under Zonar Tools.
Zonar Tools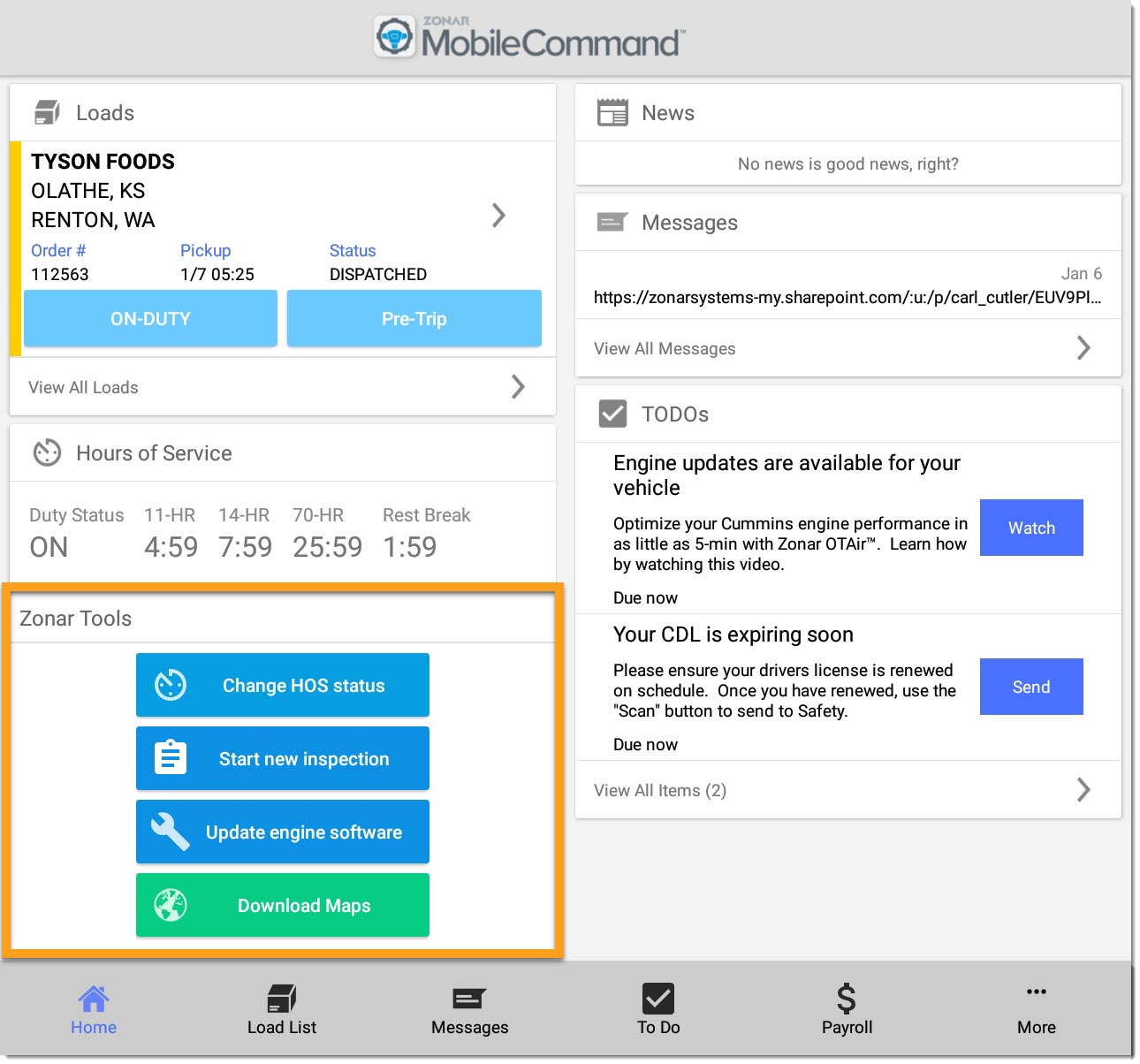 The Tools tile offers quick links to other Zonar apps, allowing you to use MobileCommand as a one-stop shop for common needs. These Tools may not be available on a personal device, and not all of them may be available on your Zonar device.
Change HOS status: Opens the Change Duty Status screen in the ZLogs ELD app.
Start new inspection: Opens the EVIR app.
Update engine software: Opens the Cummins Connected Software Update app to update your vehicle's ECM.
Download Maps: Opens the Navigation app and ensures you have the most up to date map data available.
News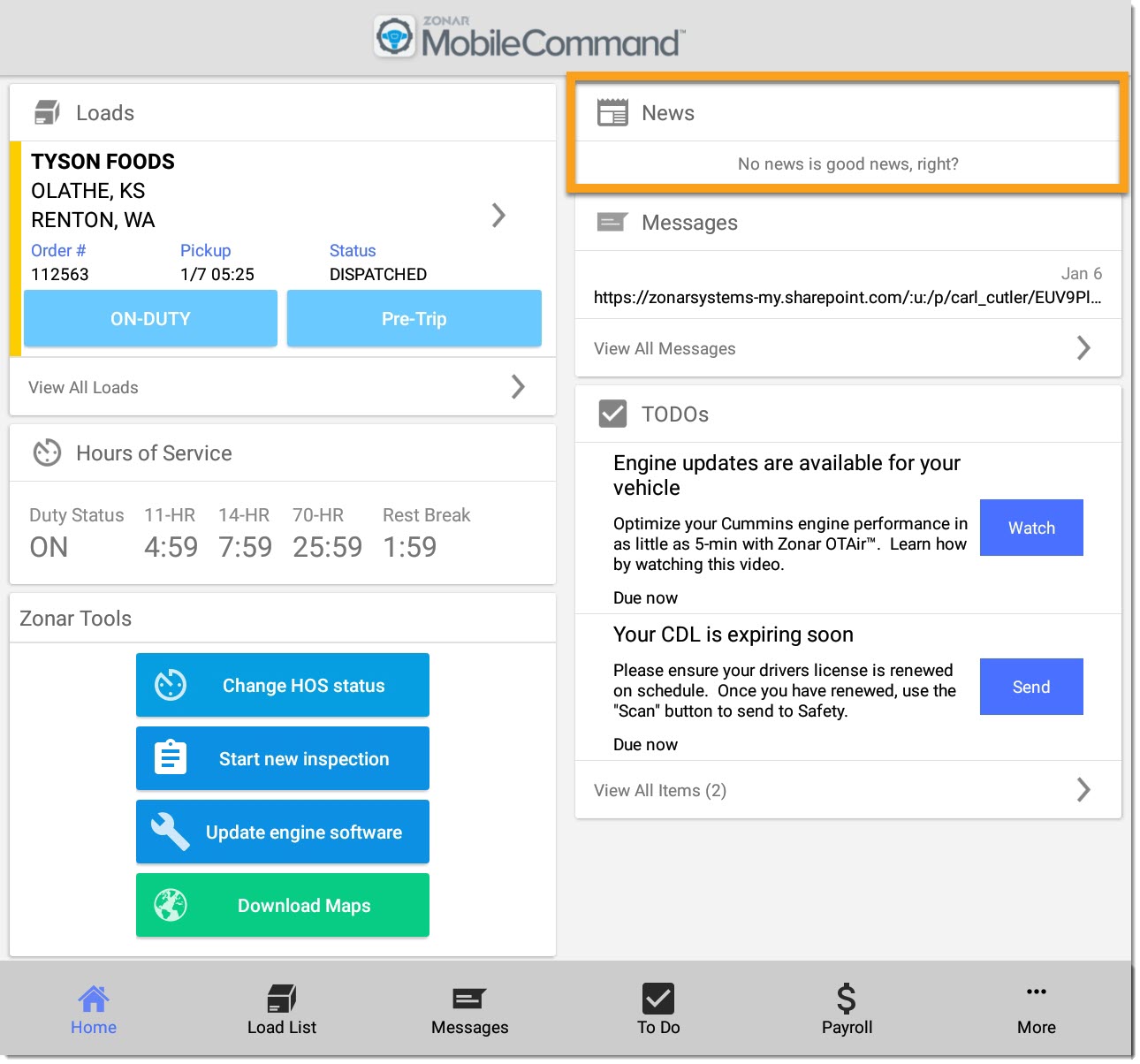 Your fleet administrator can send you news and updates over MobileCommand. Current news items will be displayed on the main page, and tapping the tile will open a list of historical news items.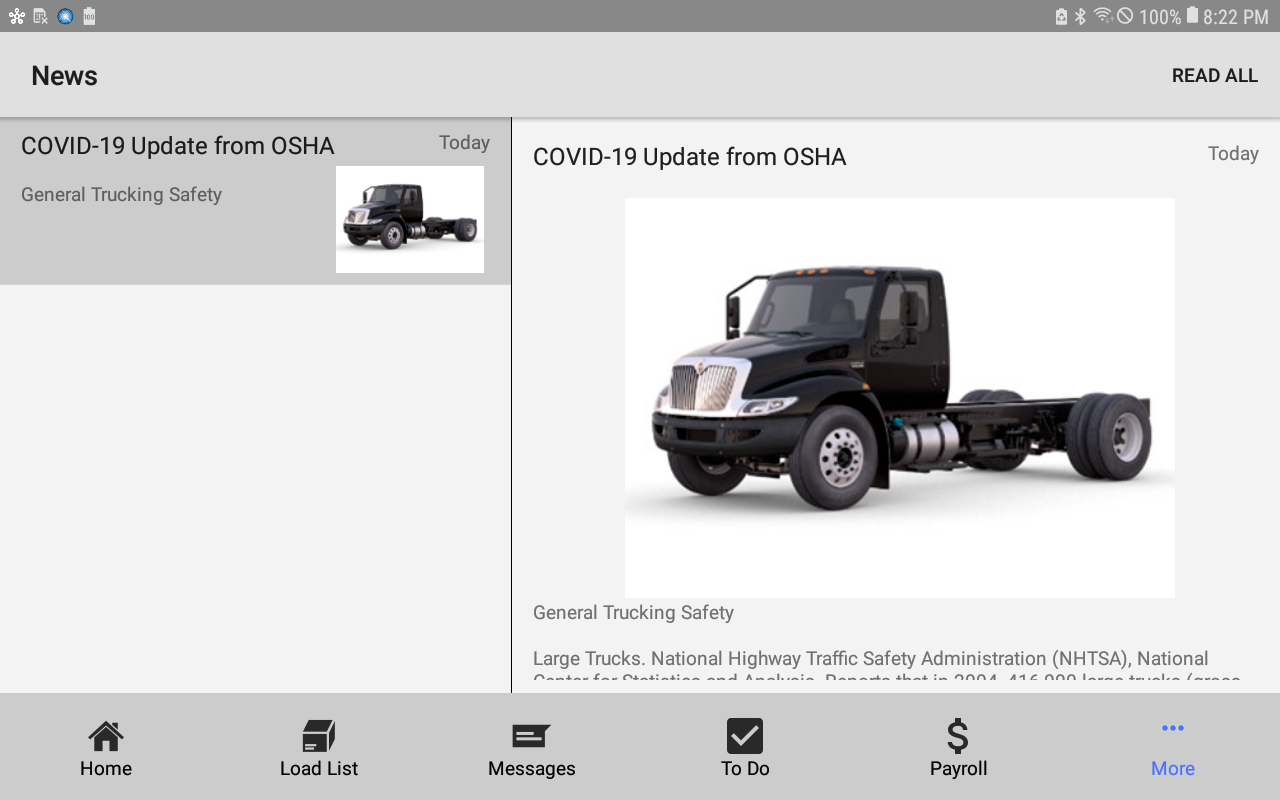 Messages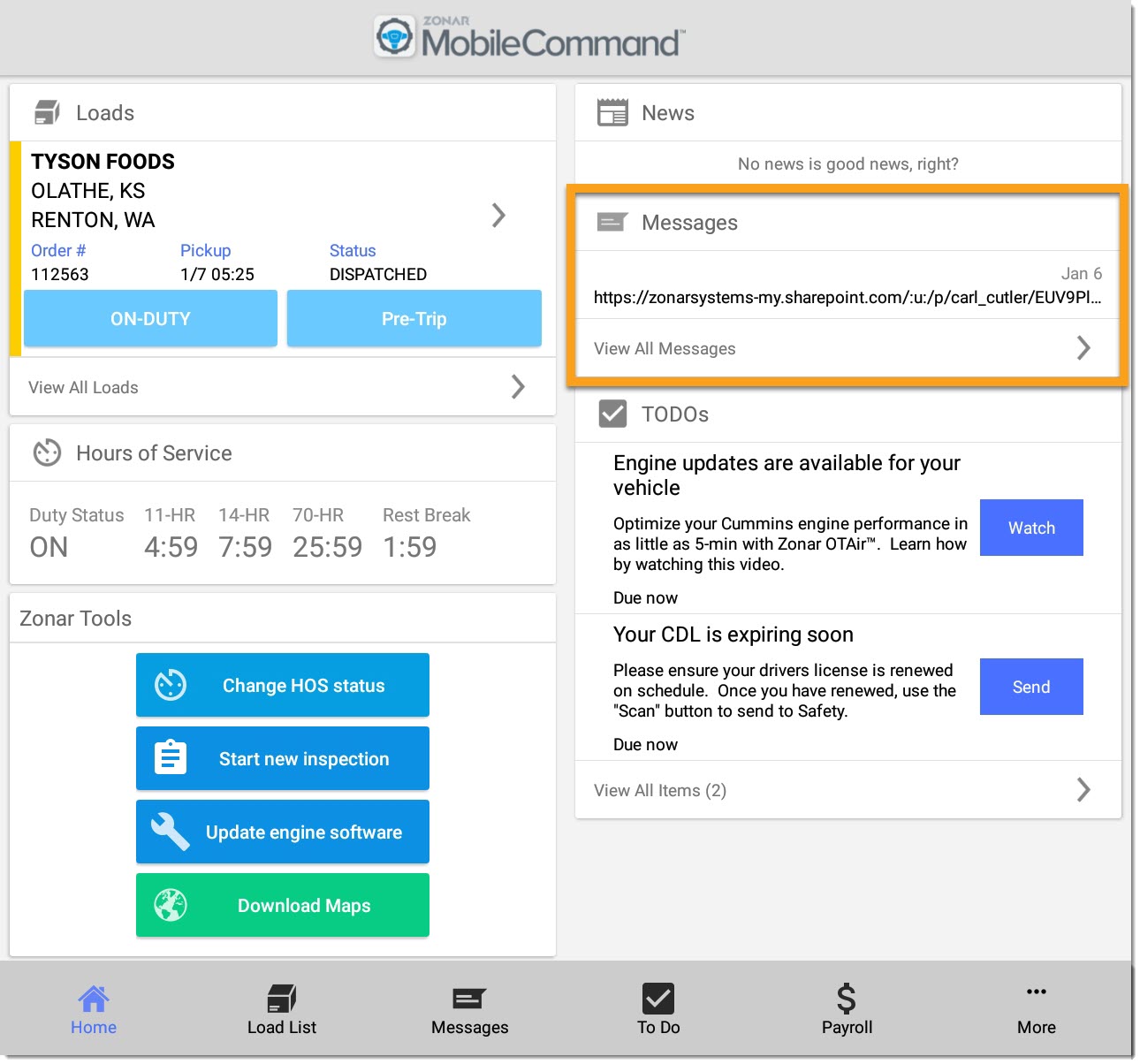 Your fleet administrator can send you direct messages over MobileCommand. New messages will be displayed on the main page, and tapping the tile will open a list of historical news items.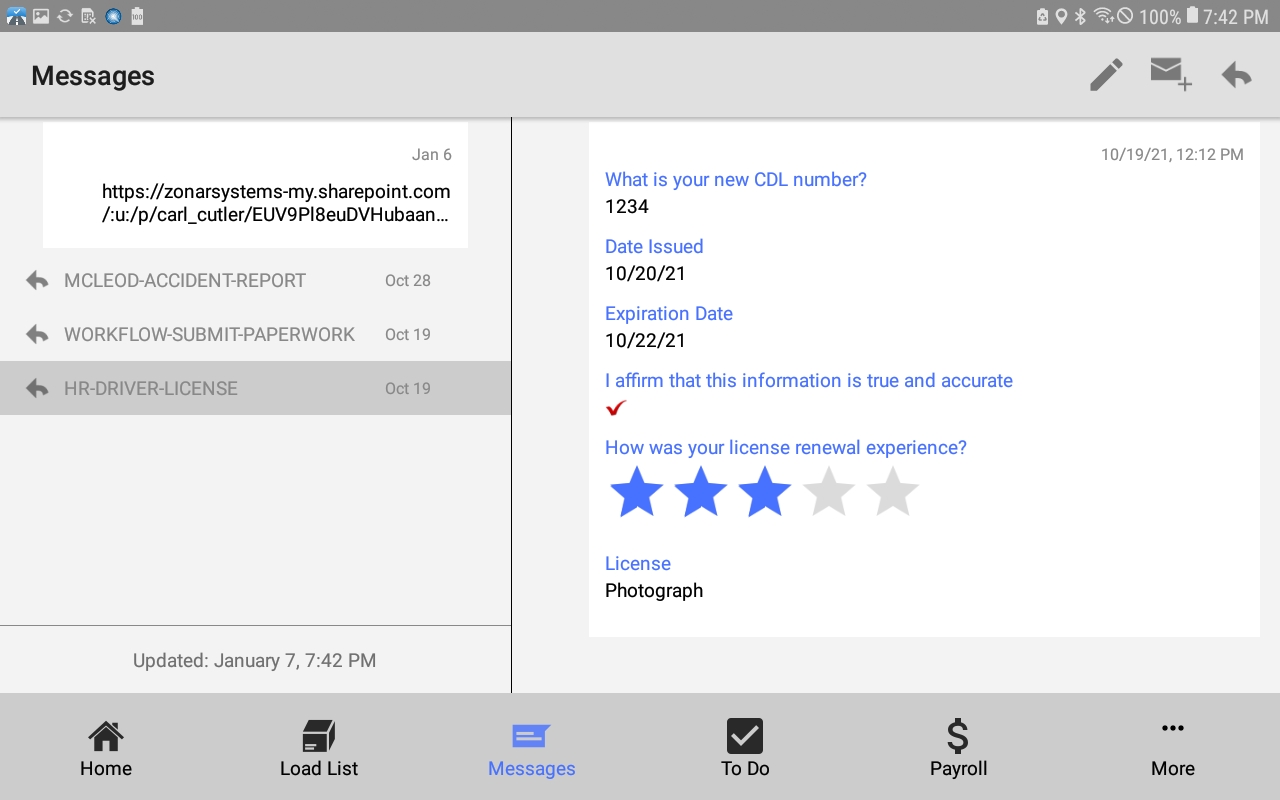 In addition to receiving messages from your fleet administrator, you can send messages back to them. Forms may be offered which you can quickly fill out, or free-form text messages can be quickly typed out.
To Dos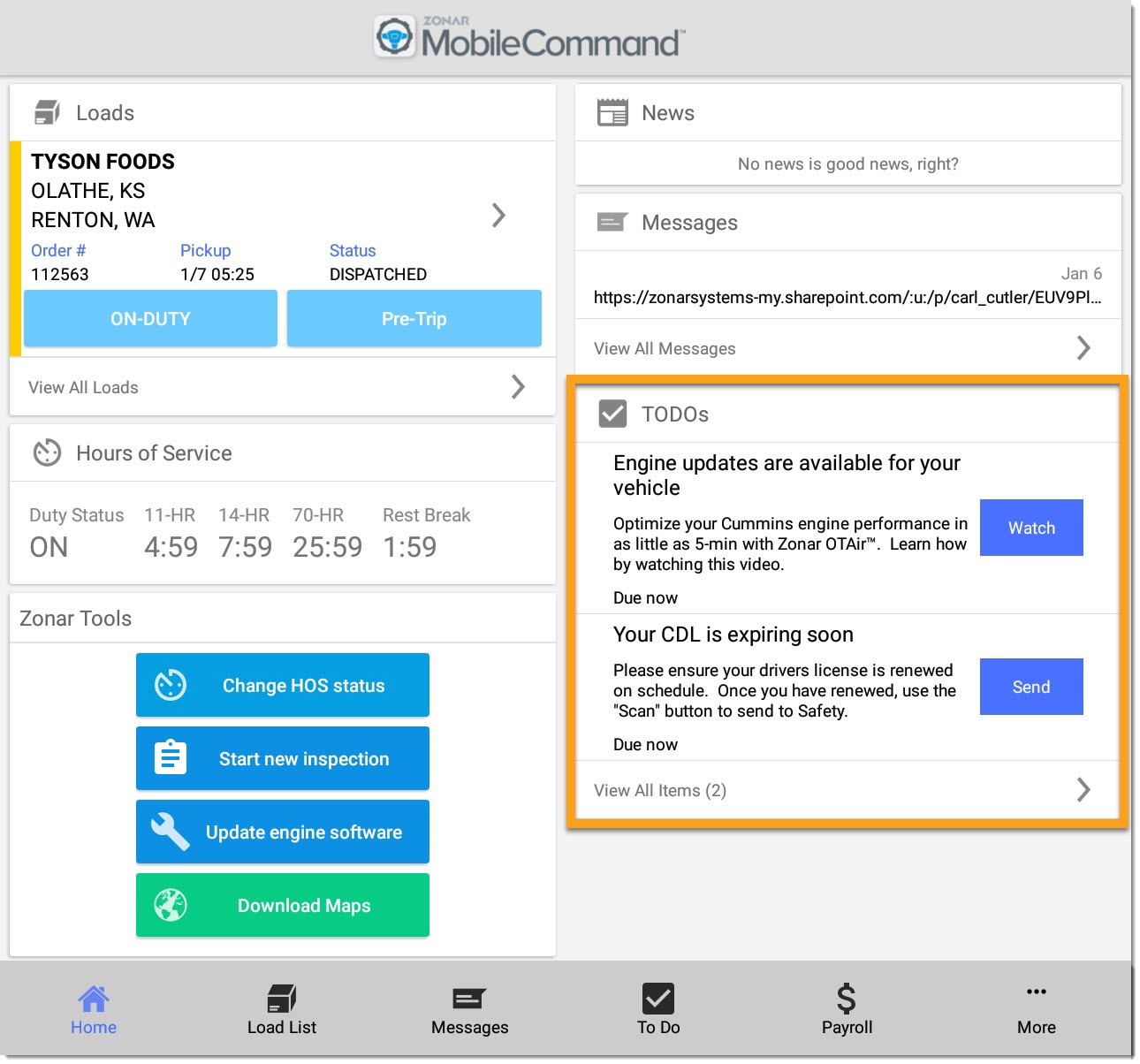 The Todo list contains tasks your fleet administrator needs you to perform. The items may contain videos, message forms, or other information to help make completing these tasks easier.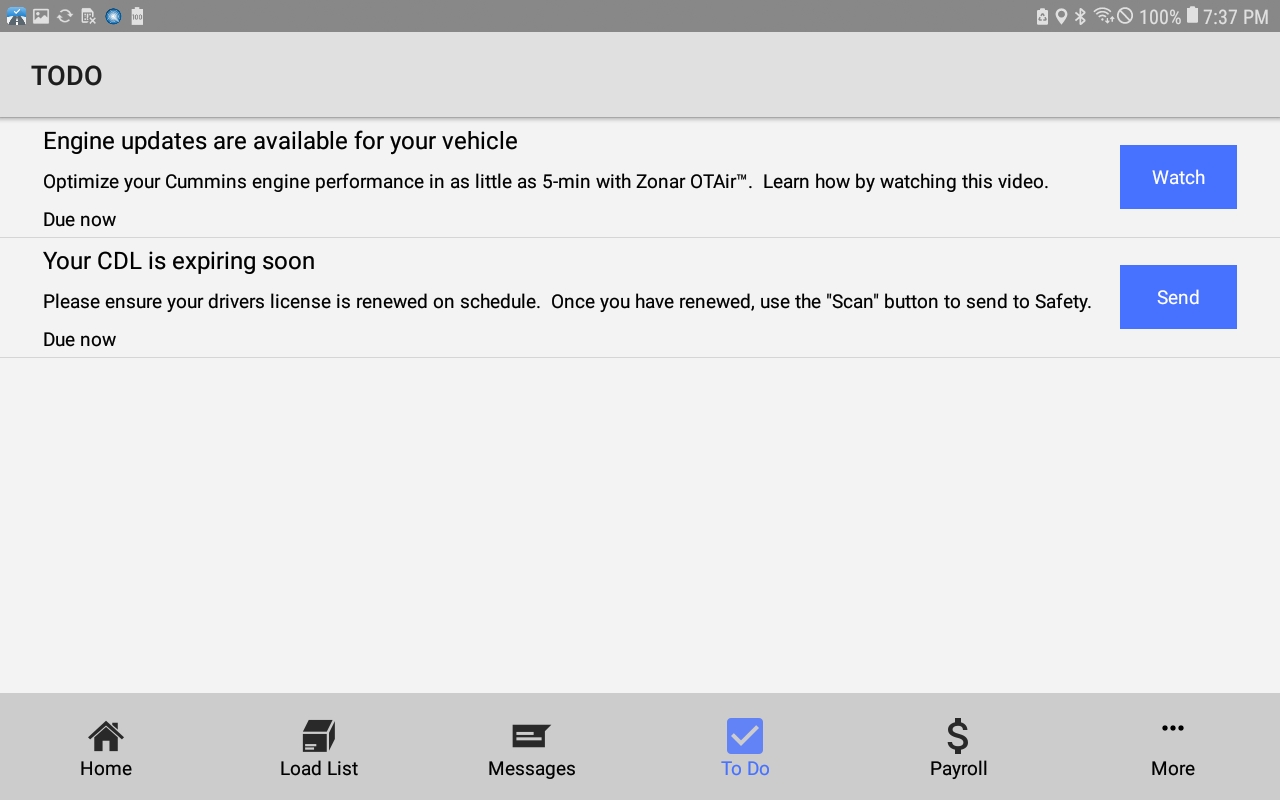 Menu and Other Items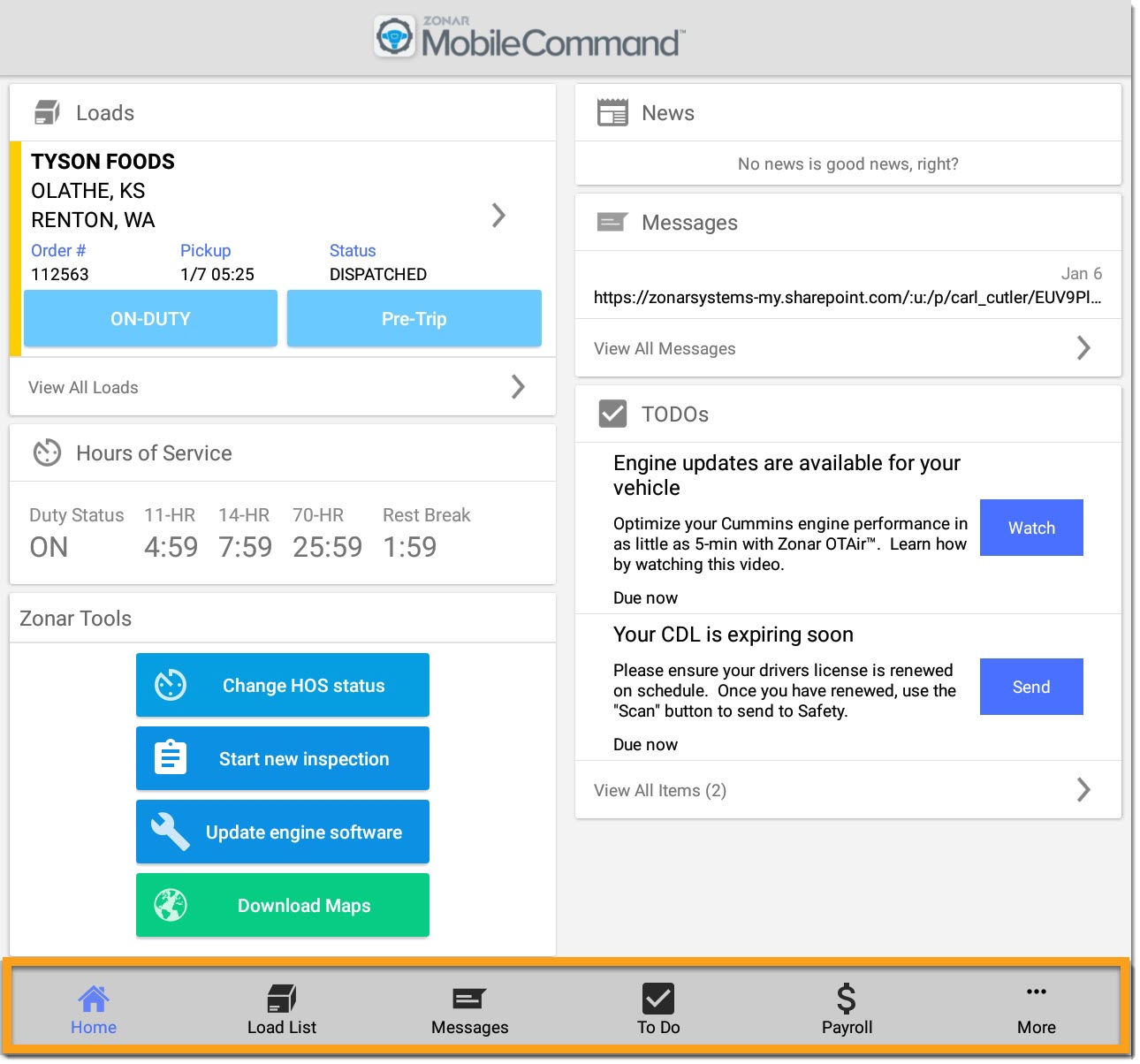 The menu bar at the bottom of the screen (or the menu button at the top left on some devices) provides access to several MobileCommand features, including some that are not presented as tiles.
Payroll
The Payroll screen shows you your pay history in dates and amounts paid.
Training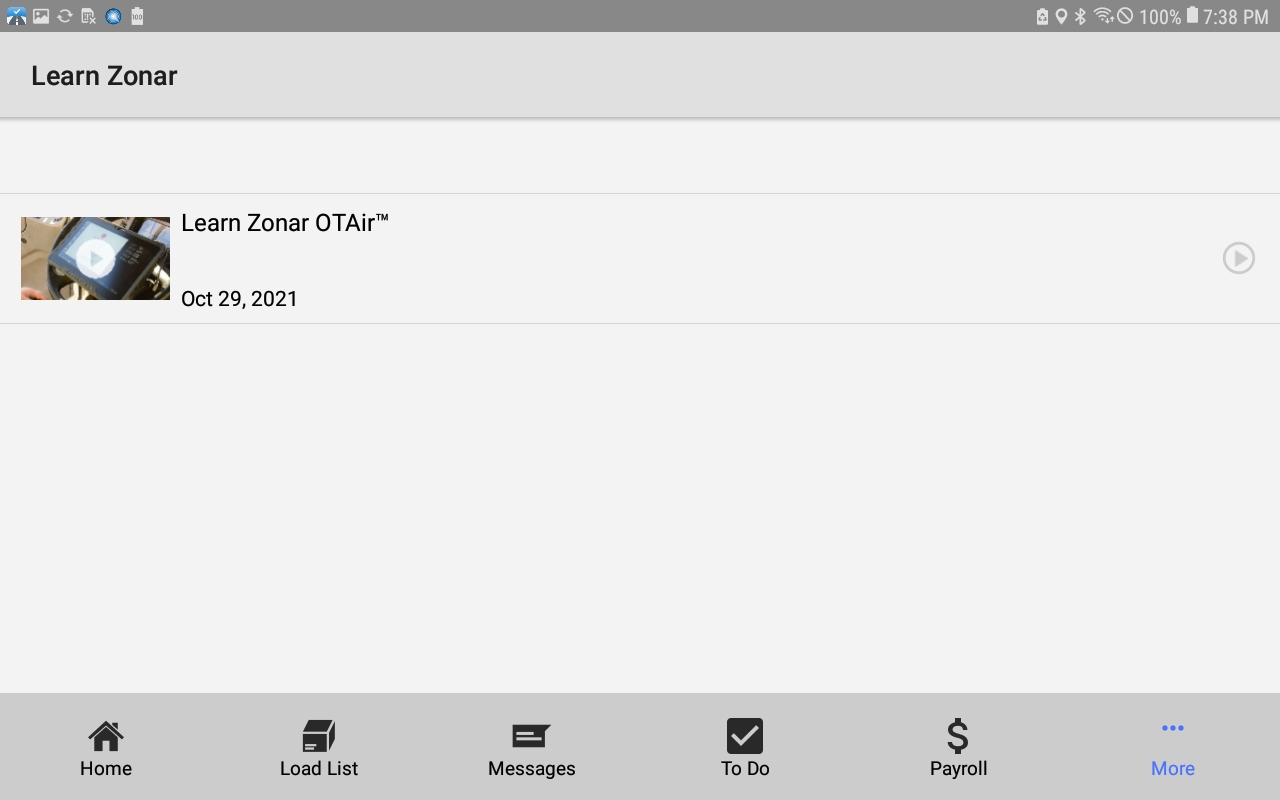 Your Fleet Administrator can make a number of training videos available to you on the Training page.
Document List
This screen provides a list of Bill of Ladings or Proof of delivery documents for your loads, usually presented as photos or scanned images.
CDL Renewal
The CDL Renewal form is provided on the menu to make staying compliant and up to date easier.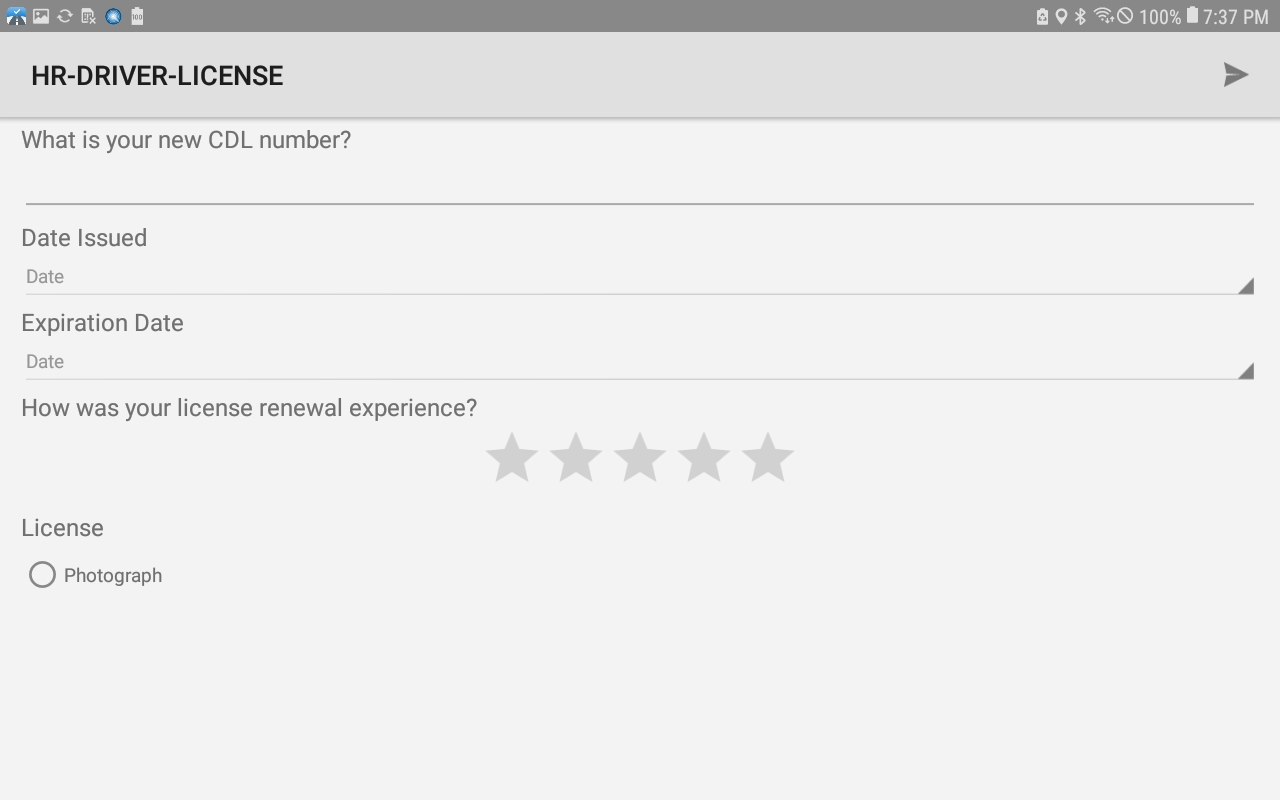 Settings
The Settings page allows you to:
Change how long documents are kept in the Document List
Change whether the map weather is displayed in Fahrenheit or Celsius
Peruse legal information
Log out of MobileCommand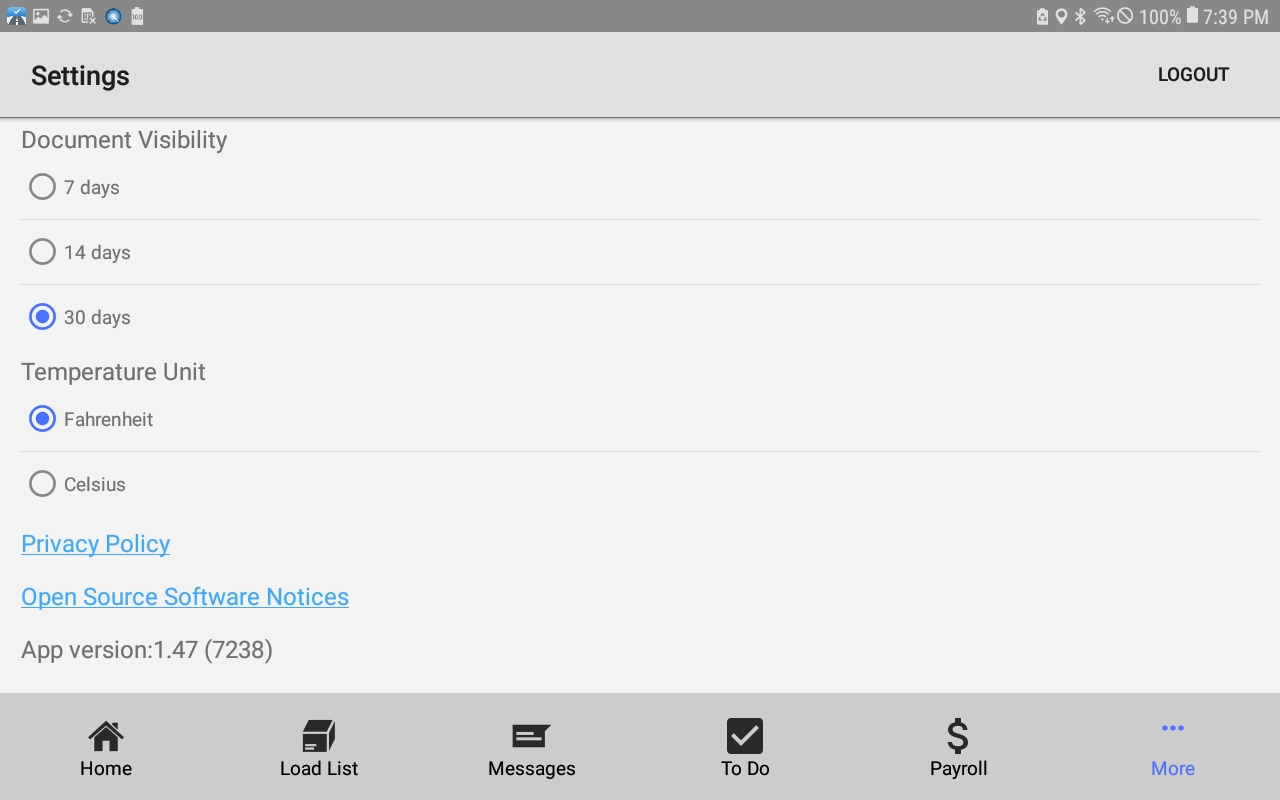 Troubleshooting
I don't have login credentials / I can't log in.
Make sure you have internet connectivity, either through mobile or through wi-fi.
Check with your fleet manager to make sure your driver information is correct.
My messages / news / HOS hours aren't updating.
Make sure you have internet connectivity, either through mobile data or through wi-fi.
HOS logs are not read directly from the Zonar device and must be communicated back to Ground Traffic Control before they will appear in MobileCommand. If your device has internet connectivity but HOS is not updating, contact your fleet manager to verify that the HOS data is being passed correctly.
I'm having another issue.
These actions may help resolving any issues you may encounter:
Make sure you have internet connectivity, either through mobile data or through wi-fi.
Sign out of MobileCommand and sign back in.
Reboot the device.
(Non-Zonar device) Check that the app is up to date.
(Non-Zonar device) Delete app data.
(Non-Zonar device) Uninstall and reinstall the app.