When the system detects vehicle motion greater than 4.5 MPH and any of the following:
the tablet does not have a driver logged in;
the tablet is un-docked;
the tablet is powered off;
the tablet is put to sleep;
the drive time cannot be associated with any driver. This scenario creates an Unidentified Driving Log which is associated with the Unidentified Driving profile. These events will be presented to any driver at the next login for review. If the unidentified events belong to the current driver, they may be accepted. If they belong to a different driver, they may be rejected.
If the vehicle is in motion, the tablet needs to remain docked. Un-docking the tablet will generate an Unidentified Driving event when the tablet is re-docked.
The following is an example of an Unidentified Driving Log that must be accepted or rejected.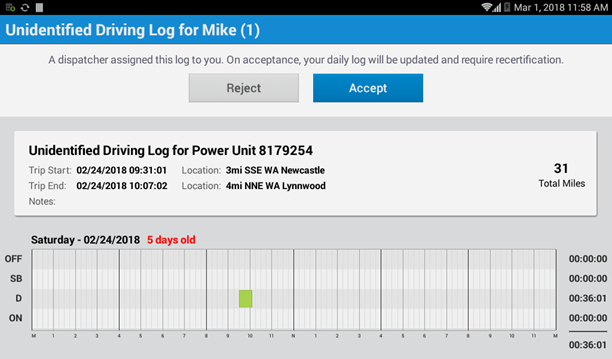 If an unidentified driving event occurs today or within the previous seven (7) days, any driver logging into the tablet will be prompted to accept or reject those events. The driver can accept the Unidentified Driving event, at which time it will be added to their logs. After accepting an Unidentified Driving event, the driver will need to re-certify the logs for the day the entry was inserted.
If the driver does not recognize the event and rejects the entry, the event is removed from the driver's view and will not be presented again. The Unidentified Driving event will remain associated to the asset and be presented to each new driver logging in. They will also be presented in Roadside View under the View tab if they occurred within the previous eight days for any logged in driver.
Dispatchers can always view Unassigned Driving events in Ground Traffic Control and assign them to the appropriate driver or justify them with a "No Driver" reason. See the Driver Logs for ELD or No Driver Reason article for more information.
When a driver accepts an Unidentified Driving Log, this action will be accompanied by drive time that is uneditable and an On Duty event that can be edited.
Unassigning Unidentified Driving
If a driver accidentally accepts an Unidentified Driving Log which has drive time that does not belong to them, they may unassign the log by finding it in their list view and tapping the Edit pencil

, similar to editing logs as described below.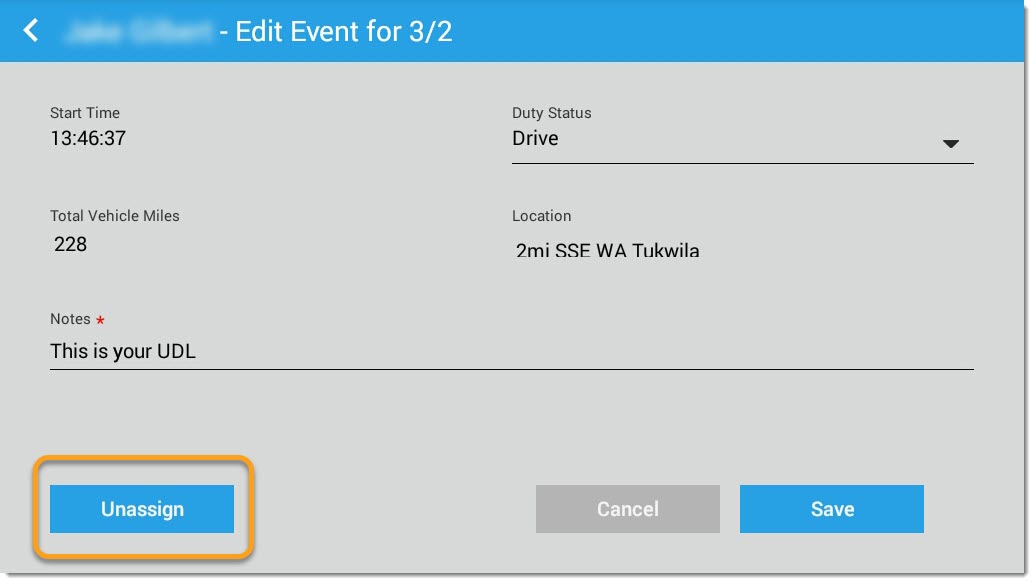 Enter an annotation in the Notes field explaining why this driving log is being unassigned. An annotation is required to unassign logs.
Once an annotation is entered, tap the Unassign button. This button is only available on events that were previously flagged as unassigned.
A confirmation box will appear asking the driver to verify that the event is not part of their logs and will be returned to Unidentified Driving Log status. Tap Confirm to unassign the log or Cancel to keep the log.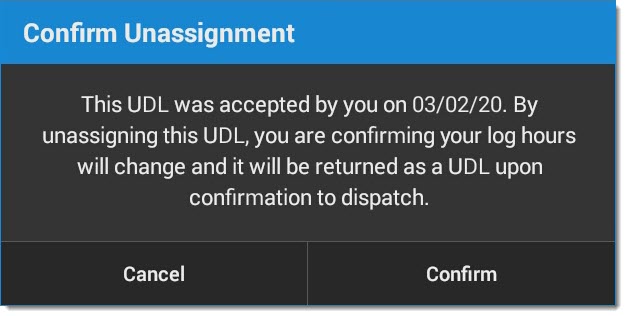 ---